Volumes Spike as U.S. Futures Slump Below 200-Day Moving Average
(Bloomberg) -- Trading volume in S&P 500 Index futures spiked as investors fled risk amid news that the U.K. Prime Minister Theresa May's push to avoid a so-called "hard Brexit" may be at risk.
Selling in U.S. equity futures accelerated as e-mini futures broke below 2,763, the 200-day moving average, and the contracts are now down more than 2 percent on the session.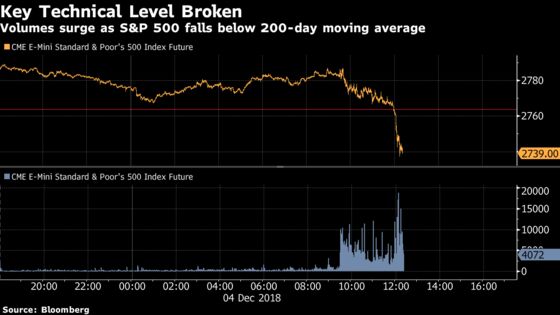 Tuesday's sell-off comes after futures pared gains on Monday after cracking 2,800, a level that investors clearly had been watching, said Pravit Chintawongvanich, equity derivatives strategist at Wells Fargo Securities.
"People had a lot of short-term long exposure on for G-20 in the form of near-dated options, and they sold pretty heavily out of the gate yesterday," he said. "Now that 2800 seems to have been rejected, it looks like people are hunkering down for another shot at the recent lows."