Visa Shows Payments Benefits Amid Economic Woes, Analysts Say
(Bloomberg) -- Visa Inc. shares fared better than the rest of the financials sector in Friday morning trading after its earnings report highlighted growth in online and electronic payments, even as purchases plunged across the board while the Covid-19 pandemic unfolded. Analysts continue to fear drawn-out economic consequences from lockdowns.
Visa slipped about 0.9% while the S&P 500 information tech index shed about 2.3%, and the S&P 500 financials index slumped around 3.5%. Fellow payment network Mastercard Inc. pared a loss of as much as 2.5%.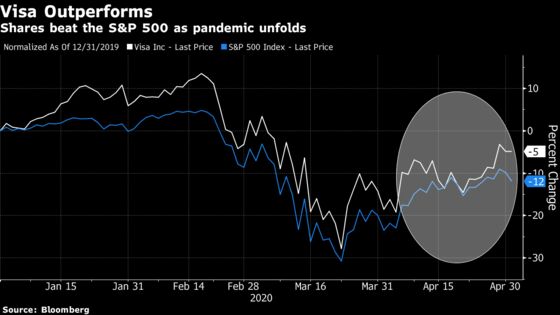 Here's a sample of the latest commentary on Visa:
Morgan Stanley, James Faucette
"The electronification of payments is coming even faster as current circumstances drive habituation of online shopping and not using cash for even in-person transactions," Faucette wrote in a note.
At the same time, he said he's concerned that April payments volume improvements were driven by government stimulus. That may be somewhat mitigated as benefits for U.S. consumers still aren't fully distributed, and there are better prospects for lifting virus restrictions ahead. He rates Visa overweight and raised his target to $196 from $183.
MoffettNathanson, Lisa Ellis
Visa's trends through April were a "surreal reminder" of the pandemic, with global processed transactions down 25% in the month, Ellis wrote. She noted that Visa processes nearly 60% of card volumes globally outside of China, and it hasn't had a quarter with declining revenues since its initial public offering 12 years ago, even in 2009.
E-commerce, excluding travel, was the one offsetting trend, rising about 20% in April, she said, while there was a jump in big-ticket transactions, like home improvement, automotive, and health care, after U.S. stimulus payments were disbursed. "All of the trend lines – both global and domestic – appear to have bottomed out by early April and are starting to inch back up again, as consumers adjust to the 'new normal,'" she said, though it's too early for Visa to have insight into how spending recovers as restrictions are lifted.
Ellis now sees Visa's 2020 revenues dropping 19% compared with the prior year. She expects a "shock" period followed by a four-quarter recession, during which purchase volume growth will remain flat. She reiterated her buy rating and took her price target to $220.
The key takeaway from Visa and Mastercard results was that payment trends stabilized in late April, at down about 20%, while e-commerce accelerated about 30% to 40%, Wasserstrom wrote.
The data was most positive for PayPal Holdings Inc., which is oriented toward e-commerce, he said. Metrics were also "constructive" for Fidelity National Information Services Inc. and Global Payments Inc., and were "largely negative" for Square Inc. Wasserstrom is cautious on Square, as it's geared toward small and medium enterprises with limited e-commerce aspects, and as SME lender On Deck Capital Inc. indicated delinquency rates are soaring.
PayPal slipped as much as 2.7% on Friday; Fidelity and Global Payments dropped about 3%; Square shed as much as 4.6%, and On Deck sank as much as 15%.
Piper Sandler, Christopher Donat
"Visa posted a nice March quarter beat, but we think the focus is still on the outlook for a recovery from the pandemic," Donat wrote. He's pessimistic regarding a quick rebound in cross-border activity, and as April trends showed U.S. payments down 19% and cross-border down 43%.
"Our primary concern is that April is the new normal, not an aberration," he said. He rates Visa neutral.
Guggenheim, Jeff Cantwell
"We like Visa longer term, but we see numerous headwinds for the company in both the near term and medium term," Cantwell wrote. "We expect cross-border (which is the 'golden goose' for the payments networks in our view) will remain under significant pressure for the foreseeable future; we also expect that high unemployment will constrain domestic payment volumes," he said.
He added that the "single, biggest exogenous risk to Visa investors right now" comes from government decision-making, as "re-opening the economy the right way (and without a vaccine?) is going to be one of the single biggest challenges we think we'll ever see." He noted that Hokkaido in Japan had to lock down a second time after re-opening too quickly; if that were to happen in the U.S., it would be "disastrous for the economy."
He also saw Visa's decision to continue buying back shares as "misguided." He rates shares neutral.
Nomura Instinet, Bill Carcache
"While the outlook for near-term growth is uncertain and likely to remain challenging, we believe that Visa is uniquely positioned to emerge from the recession stronger, particularly given structural opportunities accelerated by the pandemic (i.e., more rapid pace of cash displacement and e-commerce adoption)," Carcache wrote. He rates shares buy, with a target price of $214.