Virus Threat to Global Brands Gets Shrugged Off by Investors
(Bloomberg) -- Estee Lauder Cos. and Coach brand owner Tapestry Inc. both warned that the coronavirus will hit sales in China -- a key driver of growth for their fashion goods.
The result? Their shares soared. Estee Lauder had its biggest gain since August on Thursday in U.S. trading after cutting its earnings outlook for a second straight quarter. Tapestry rose to a six-month high after warning that the financial impact from the outbreak could be worse than it's currently predicting.
The apparent dichotomy between the potential hit on U.S. companies that are increasingly relying on Chinese consumers for future growth and the stock reaction is in step with what has happened in Europe. French Luxury goods giant LVMH has soared in recent days, defying concerns about the viral outbreak. It also aligns with the overall U.S. market, which touched an all-time high Thursday.
Part of the problem is that neither the companies nor the analysts can today predict the duration of the outbreak or its impact on China's economy and supply chains. Large swathes of the country are on lockdown, shopping malls are closed and travel is heavily restricted.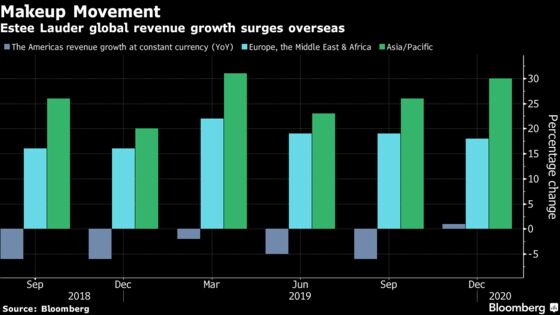 New York-based Estee Lauder, which gets about a quarter of its sales from the Asia Pacific region, said its lowered outlook includes an estimated cost of the coronavirus, but added that it's still very difficult to predict. Its online business in China is "suffering," Chief Executive Officer Fabrizio Freda said.
Likewise, Tapestry expects its full-year profit to take a 35-cent to 45-cent hit. Yet if the situation with the coronavirus deteriorates further, the effect on Tapestry's forecast "could be worse," CEO Jide Zeitlin said.
Wall Street had anticipated an impact, and might be looking beyond the health crisis. And both Estee Lauder and Tapestry did have good news to report, too. Absent of the outbreak, Estee Lauder continued to gain meaningful share in the beauty category, Consumer Edge Research analyst Carson Barnes wrote. "We anticipate trends to resume as business normalizes in China and are buyers on any weakness," he said.
Tapestry posted strong quarterly sales at its Coach brand and appointed a new head of its beleaguered Kate Spade fashion label.
Capri Holdings Ltd., the owner of the Michael Kors, Versace and Jimmy Choo brands, shows that markets can be fickle. The stock climbed 8.3% Wednesday despite the company saying the virus will have a material impact on its business. On Thursday, the shares dropped 3.6%.
Amid the uncertainty, a number of companies haven't quantified the cost to their business. Nike Inc. was among the first major consumer companies to cite a significant impact this week, although it didn't quantify it. Starbucks Corp., which has closed more than half of its coffee shops in mainland China, said its 2020 projections don't include the impact of the closings because it can't yet calculate it. And Apple Inc. provided a wider-than-usual forecast range for the current quarter.