Virus Ravaging Historic Prison Spirals Into Health Crisis
(Bloomberg) -- A Covid-19 outbreak tearing through California's San Quentin State Prison has ignited a broader crisis as gravely ill prisoners are transferred to hospitals throughout the San Francisco Bay Area, stretching capacity in a region already struggling with a spike in cases.
The state is converting parts of the 168-year-old facility to a treatment ward, erecting tents as care centers and reducing the population to try to quell a virus that has now infected more than 1,600 prisoners, about 47% of the San Quentin population. Two hundred staff members have tested positive, leading to worker shortages and concerns of spread to the public.
Across the U.S., correctional facilities in areas including Chicago, Houston, Ohio and New York have become hotbeds for the fast-spreading virus, threatening wider outbreaks and highlighting a group disproportionately affected by it: poor or marginalized citizens, many of them Black and Latino. In California, a federal judge this week warned that the state needs to prepare for a surge in prison cases and set aside beds to safely isolate and quarantine those infected -- a stark challenge for a chronically overcrowded system.
A growing number of public-health and criminal-justice experts are urging Governor Gavin Newsom to use his executive power to release some of the incarcerated to their families. Newsom has said he is working to "decompress the system" to reduce San Quentin's population to help stop the spread, but needs to do so thoughtfully and deliberately.
"What I can't do is release people to the streets, sidewalks, parks and benches and call that compassion," Newsom said Thursday during a news briefing largely focused on the state's looming wildfire season. "To leave people out on the streets is not something I will do. I want to make sure that people have support when they get out."
During a news conference outside San Quentin's gates Thursday, several state legislators, activists and families of those incarcerated urged Newsom to release the prisoners, warning that thousands of people are fighting for their lives, and dying, inside.
Health experts expressed the same concerns. "This is a real emergency. From a public-health perspective, the only solution is to evacuate them," said Peter Chin-Hong, a professor of medicine and an infectious disease specialist at the University of California San Francisco, where five people from San Quentin are in the medical center's intensive-care unit.
"You have all of these infected people in an ancient building with bars over the windows -- it's like keeping people in a burning house without putting out the fire," he said. "We have to think of this like an earthquake or a wildfire: time is everything. Every hour you wait is potential lives."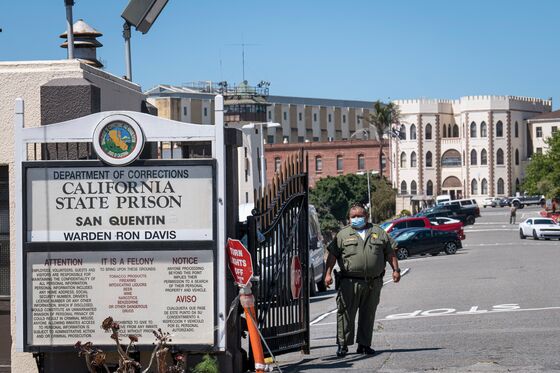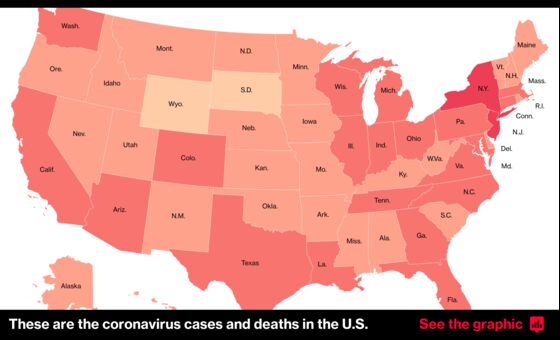 The outbreak is hitting just as California, once lauded for its success in tamping down the virus, is dealing with a record surge of cases and hospitalizations. San Quentin's home of Marin County -- located just across the Golden Gate Bridge from San Francisco and one of the state's wealthiest areas -- has seen a jump in infections, leading it to pull back on reopening plans. Last week, it was added to a state watch list.
"We've had more cases from San Quentin in the last three weeks than the entire county combined since this pandemic began," Matt Willis, Marin County's public health officer, said in a phone interview Wednesday. "As of today, 12 of our 30 Covid beds are occupied by prisoners who were transferred from San Quentin."
Willis said Marin's hospitals are willing and able to care for the incarcerated when they become critically ill. But it's a complex situation that strains the local health-care system. When an inmate is transferred to a hospital, typically two or three guards escort them -- which can potentially lead to increased infection within the hospital itself.
"You have two or three guards posted outside of every room, and doctors and nurses trying to make their way through that," said Willis.
Roughly 10 prisoners a day are being transferred to hospitals throughout the Bay Area region. Newsom reiterated Thursday that he's working to reduce San Quentin's population to about 3,000 people. The complex was designed to hold 3,082 prisoners, but currently has 3,392, according to state data that updates weekly. A spokesperson for the governor didn't clarify whether the state would be granting early releases, moving the incarcerated to other facilities, or both.
As of Thursday, seven prisoners at San Quentin had died, and 1,613 currently incarcerated people have tested postive for Covid-19, though some cases are "resolved" or recovering, according to the California Department of Corrections and Rehabilitation website.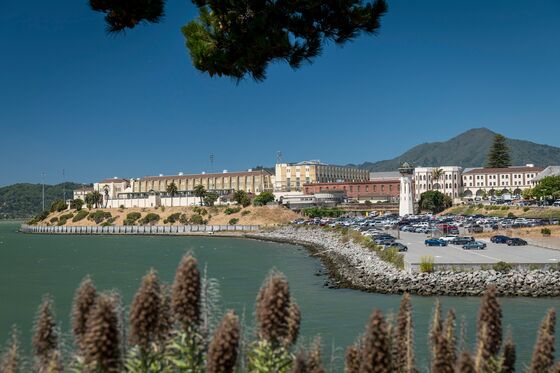 California's oldest prison presents numerous challenges from a public-health perspective. The aging facility's prisoners -- all men -- include more than 700 on the state's only Death Row. But the vast majority are lower-level offenders or lifers, including many elderly prisoners with complex health conditions. The cells have bars instead of doors, the ventilation is poor, and access to fresh air is minimal. The prison itself is arranged in five tiers, in which cells are stacked on top of each other.
"Prisons were by and large built to house much younger, and far fewer, people," said Brie Williams, director of the Criminal Justice & Health Program at UCSF and a professor of medicine in the division of geriatrics. "Over the last one and a half to two decades, we've seen a rise in the number of older adults who are incarcerated in prisons and jails across the nation." At San Quentin, two of the seven prisoners that recently died were in their 70s.
There were zero confirmed cases at San Quentin through the month of May. But state corrections officials made a decision to move 121 men from another prison having an outbreak in southern California, without many of the transferred getting recently tested.
Upon arriving at San Quentin, they were placed in a large, shared unit with the existing population. Marin Public Health urged the prison to mandate mask wearing, but corrections officials told the agency it lacked the authority to do so, according to Willis.
Willis has spent much of the past week at San Quentin and has seen signs of progress. Large tents have been erected on the prison yard so Covid-positive inmates can be separated from those who are negative. A field hospital is being established on site, and doctors and nurses from other prisons throughout the state are arriving to help with staffing.
Still, infections are spreading in other parts of Marin County, particularly among Latino workers and through household transmission. The disparity is stark: Latinos represent 16% of the population, but 79% of Covid cases, according to county data.
Though San Quentin has drawn enormous attention, other prisons in more remote parts of the state also have suffered from outbreaks, including Avenal State Prison in Kings County.
"Prisons are not cruise ships surrounded by a moat that magically separates them from the community," said Williams of UCSF. "It is easy for people in our society to act as though people who are incarcerated are not a part of our community. From an infectious disease standpoint, they certainly are. The San Quentin situation is an alarm bell, and a devastating public-health travesty that we have to learn from."