Virus Hits Philippines Outlook Most Across Southeast Asia
(Bloomberg) -- Economists have slashed their 2020 outlook for the Philippines by more than any other Southeast Asian nation as it struggles with one of the region's worst coronavirus outbreaks.
The forecast for the country's gross domestic product dropped from a 6.1% expansion at the beginning of the year to an 8.9% contraction, a swing of 15 percentage points, according to the median of estimates compiled by Bloomberg. Thailand is second-worst, at 10.1 percentage points, followed by Malaysia's 9.8 percentage points.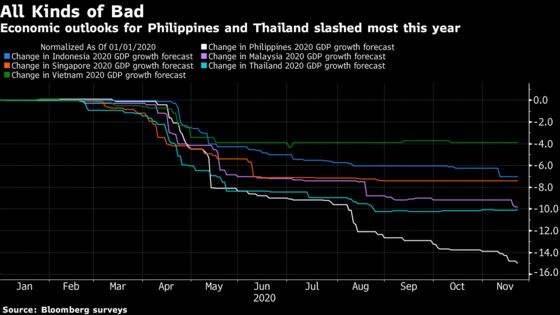 "The third-quarter and nine-month year-to-date data show an alarming lack of consumer demand that requires direct fiscal stimulus," said Patrick Ella, a portfolio manager and economist at Sun Life of Canada Philippines Inc.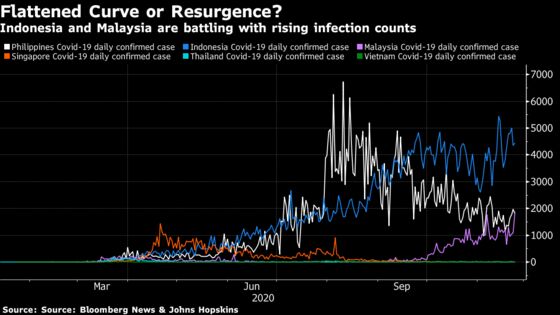 While Thailand has contained the spread of the virus, its tourism industry has been gutted by international travel restrictions while weak global demand and a strengthening baht have pummeled exports. The nation's economy is forecast to shrink 7.1% this year.
Vietnam is expected to suffer the least from the pandemic, with its 2020 growth forecast revised down by 3.9 percentage points to 2.8%, outpacing the 2% forecast for China.