Virus Explosion in Australia Exposes Cruise Ships' Hidden Menace
(Bloomberg) -- Coronavirus cases in Australia from a single infected cruise ship exploded, highlighting again the dangers the vessels pose to governments fighting the spread of the virus.
The number of infections from the Ruby Princess, which docked in Sydney on March 19, has reached 133, Australian health authorities said Tuesday. One woman in her 70s has died. The ship accounts for 7.3% of all cases in the country, where infections are soaring.
The Princess Cruises-operated vessel is just the latest cruiseliner to become a hotbed for the virus. More than 700 people were infected on another Princess Cruises-run vessel off Japan in the early days of the outbreak. For many countries, the ships have become floating pariahs that are barred from ports.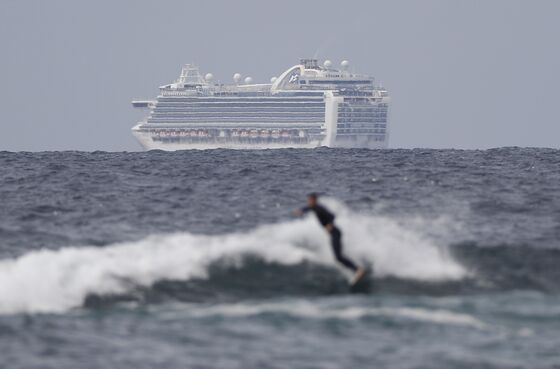 Some 2,647 passengers left the Ruby Princess in Sydney, even as 13 individuals on board suffered flu-like symptoms. With the first infections confirmed the next day, state and federal leaders blamed each other for the lapse, and health authorities raced to track down and isolate the thousands of people who left the boat and had dispersed across Australia.
Cruise Ship Rejected by Thailand, Malaysia, to Dock in Singapore
The health department of New South Wales, Australia's most-most populous state, assessed Ruby Princess as "low risk" when she berthed. Medics on board couldn't test for the virus themselves and passengers were allowed off pending the official results.
She's not the only vessel causing problems in New South Wales. There are 13 cases linked to the Ovation of the Seas, which docked in Sydney on March 18, and seven from Voyager of the Seas, which disembarked the same day, health authorities said Tuesday.
Total cases in Australia were 1,823 at 6 a.m. on March 24. That's a jump of 344 from the previous day.
Australia has announced a ban on foreign cruise ships, but is still allowing domestic vessels and some ships that were at sea when the restrictions were announced to dock and let off passengers.