What Does a Vindicated Apple Bear Think Now? 
(Bloomberg) -- Apple Inc. was upgraded to neutral at New Street Research, as a long-time bear -- who downgraded the stock to sell in August, forecasting the iPhone weakness that would soon send the stock into a bear market -- said his negative thesis had been fully played out.
"We don't see reasons for Apple to underperform further this year," wrote the team of analysts, led by Pierre Ferragu. However, they added, "we don't see reasons to buy yet," as the stock "may remain cheap for some time."
New Street has a $140 price target on the stock, which is tied for being the lowest on the Street. The average analyst target is $186, according to Bloomberg data.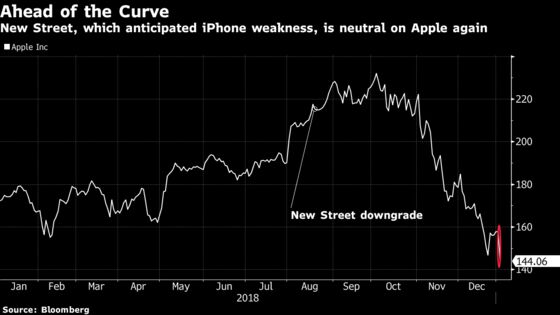 Apple shares sank as much as 9.6 percent on Thursday, putting it on track for its biggest one-day drop since January 2013. The slump took the stock to its lowest level since July 2017.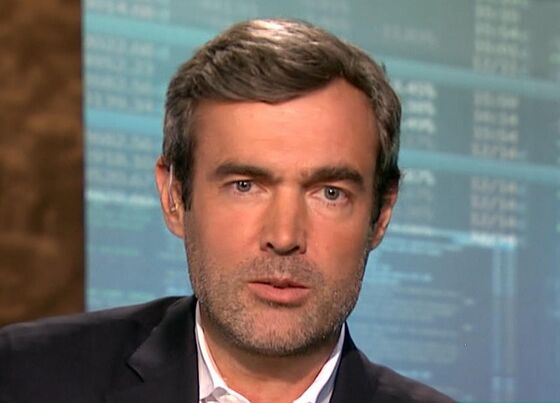 New Street wrote that it had been expecting a "major negative surprise" in Apple's results, though it anticipated it coming in the company's March quarter, as opposed to a warning about the December one.
The "reality is that Apple & channels saw the trend much earlier, ahead of the holiday season and adjusted shipments accordingly," the firm wrote to clients. "The macro environment has deteriorated, especially in China."
Apple's stock has dropped nearly 40 percent from record levels hit in October.
At current levels, "we don't see much risks of further disappointment, other than related to a worsening of the macro," the New Street report read. There is "limited further relative downside to the stock," which the firms sees as trading at a low valuation point.