Villeroy Says Overall Effect of ECB's Subzero Rate Is Positive
(Bloomberg) -- Go inside the global economy with Stephanie Flanders in her new podcast, Stephanomics. Subscribe via Pocket Cast or iTunes.
Francois Villeroy de Galhau, the European Central Bank Governing Council member who pressed hardest for a review of the institution's negative interest-rate policy, said the benefits of the measure still outweigh the drawbacks.
"We are convinced that as a whole negative interest rates are positive," Villeroy told an audience in New York on Monday. "If there are any side effects on bank intermediation we could study what we call mitigating measures, if needed. Let us now work -- it's a technical discussion -- and then decide."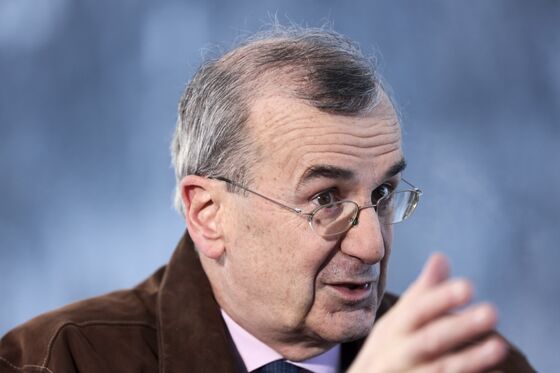 The comments echo those other ECB officials including President Mario Draghi have made recently -- a somewhat surprising twist after Villeroy's push to look into offsetting some of the impact of the policy forced a Governing Council debate and speculation that policy makers may announce so-called tiering. While bank lobby groups have advocated such a step, arguing negative rates hurt profitability, central bankers have been much more skeptical.
Both Chief Economist Peter Praet and Bundesbank president Jens Weidmann have signaled they were open to the rethink, though they stopped short of any commitment to change. Dutch central bank Governor Klaas Knot has urged colleagues to "stay far away" from any move.
The ECB has kept its deposit rate below zero for almost five years as part of its efforts to rekindle lending to companies and households. With prospects increasing that borrowing costs will stay low for longer amid a recent slowdown in activity, the Frankfurt-based institution has asked staff to analyze the measure.
"In the framework of our regular assessment we should study all the effects of unconventional policy on banks," Villeroy said. "Negative rates diminish the interest rate margin, we all know that but there are also positive effects. The combination of this effect can evolve over time, so we have to reassess the combined effect of unconventional monetary policy."
The Governing Council holds its next meeting in June, when it will also present new forecasts. Villeroy expressed some optimism about the euro-area economy, reiterating a projection that foresees growth rebounding later this year.
While recent indicators "point to substantially weaker than previously expected activity in the first half of 2019," the latest ECB forecast from March "assumes a gradual dissipation of global and domestic headwinds, allowing the fundamental factors supporting the euro-area expansion to regain traction from the second half."
Europe's economic distress was one of the key topics debated during the International Monetary Fund's meetings last week. The Washington-based lender had cut its projections for growth in the region once again after Italy succumbed to recession and Germany's manufacturing slump -- partly driven by weakening export demand -- reverberated through the region.
Villeroy said the ECB is "clearly determined to maintain an ample degree of monetary accommodation for as long as necessary" to return inflation toward the institution's goal of just below 2 percent. He see euro-area price growth slowing this year, before gradually recovering.