Thousands of Vietnamese Flee Industrial Areas After Virus Restrictions Ease
Millions of migrant workers in Vietnam could flee the country's factory heartland -- home to suppliers for companies including Abercrombie & Fitch Co., Nike Inc. and Adidas AG -- in the latest blow to the world's troubled supply chains.
Tens of thousands of workers have already left the nation's commercial hub of Ho Chi Minh City and nearby provinces of Binh Duong, Dong Nai and Long An, the government said on its website. As many as 2.1 million workers in the industrial belt want to return to their home provinces, the government reported, citing data from the public security ministry.
The threat adds to months of strain on global manufacturing supply chains as the Covid-19 pandemic forces factories and ports to shut down across Asia -- a key producer of computer chips, raw materials and finished consumer goods such as sneakers, toys and automobiles. Vietnam, in particular, has been a bottleneck of concern, having attracted investments in recent years from global companies seeking an alternative to China as a production base, a trend that accelerated with the U.S.-China trade tensions.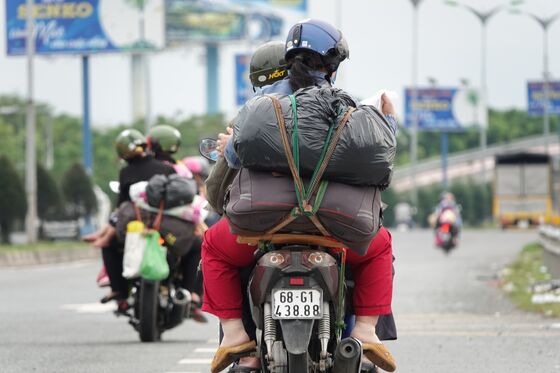 Workers are fixated on the pandemic right now and believe they are safer with family in rural provinces, where they can also find work at factories, the news website Zing reported, citing Chu Tien Dung, head of the Ho Chi Minh City Businesses Association.
The risk of a growing exodus of workers reinforces industry leaders' warnings of an impending labor shortage after many returned to home provinces during a tough lockdown that saw factories ordered to set up sleeping accommodations for workers or temporarily close. The easing of restrictions on Oct. 1 saw a wave of workers flee the southern industrial hub, the first time in months they have been allowed to leave the city.
Vietnam's garment industry could see a drop of as much as 37% in workers for the rest of 2021, according to Vietnam Textile & Apparel Association Chairman Vu Duc Giang. About 40% of employees in the shoe industry returned home and it's unclear how many will return, said Phan Thi Thanh Xuan, vice chairwoman of Vietnam's Leather Footwear and Handbag Association. 
The Southeast Asian nation has for years been the second-largest supplier of clothes and shoes to the U.S., according to the American Apparel & Footwear Association, which represents more than 1,000 brands.
Global brands have already been bracing for fallout. 
Urban Outfitters Inc. and Abercrombie & Fitch cautioned of holiday-season shortfalls, while Nike lowered its sales forecast after 10 weeks of lost productivity in Vietnam, Chief Financial Officer Matthew Friend said last month. The company has also moved some orders to other countries, Vietnamese news website NDH reported, citing the trade ministry. Meanwhile, Gap Inc. said it was using "accelerated transportation" to counter delays, Chief Financial Officer Katrina O'Connell said in an August analysts' call. 
Adidas supports the measures taken by Vietnamese authorities, the company said Thursday in an emailed statement. "Health and safety is a top priority for Adidas, also in our supply chain," the athletic-gear giant said. "We are in contact with our partners to mitigate the impact of the current lockdown on our business and, for example, to temporarily reallocate production to other countries."
Gap declined to comment. Other companies didn't respond to requests for comment.
The virus and ongoing lockdowns are weighing on Vietnam's economy. The nation's statistics office recently forecast gross domestic product to grow 2.5% this year, far below the official target of as much as 6.5%, as tough pandemic policies impact almost every corner of a nation that had earlier powered through the pandemic by helping factories stay open.
Vietnam's pandemic response has been upended by the delta variant and one of the lowest vaccination rates in the region. Officials have arranged hundreds of buses to transport workers back to rural regions, the government said. Returning workers who are not vaccinated are sent to quarantine centers.