Vietnam Wants Digital Economy Equal to 20% of GDP in Four Years
(Bloomberg) -- Vietnam, which has one of the smallest e-commerce markets in Southeast Asia, is in a hurry to catch up.
Hanoi wants the digital economy to represent 20% of Vietnam's gross domestic product by 2025, the government website reported, citing a draft decision by the prime minister. The National Party Congress, which meets every five years, has set a target for the digital sector to make up 30% of GDP by 2030.
It's an ambitious reach: Vietnam's digital economy currently accounts for just 8.2% of GDP, the news website VietnamNet reported in July, citing a Ministry of Information and Communications official. Euromonitor International estimates e-commerce represented a mere 3% of Vietnam's retail market last year, the smallest slice among Southeast Asia's major economies.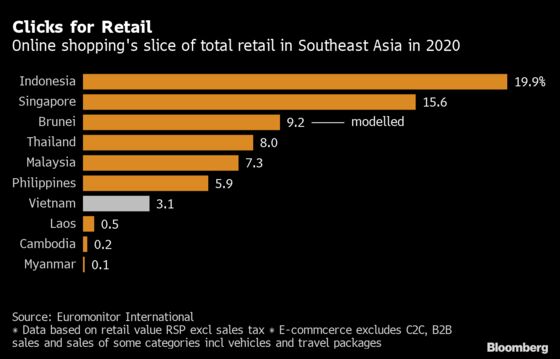 Officials want 80% of the population to have online payment accounts by 2025, according to the government's post. That's also when they want half of e-commerce transactions -- many of which are still conducted in cash -- to go cashless.
The government isn't alone in wanting change. Vietnam's young and tech savvy population -- more than half of the 98 million citizens own smartphones -- is attracting foreign tech investors, including Warburg Pincus LLC, Goodwater Capital LLC and Alibaba Group Holding Ltd.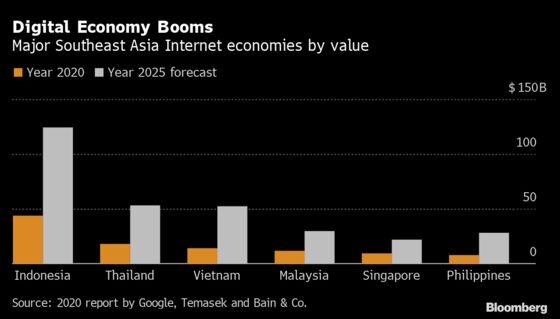 Between 2016 and the first half of 2020, investors funneled $1.9 billion into Vietnam's online sector, according to a study by Alphabet Inc.'s Google, Temasek Holdings Pte and Bain & Co. showed.
The country's digital economy is forecast to grow to $52 billion by 2025 from 2020, expanding nearly 30% per year, according to the same study.