Video Games Are Changing. Expect Investors to Pay Less, for Now
(Bloomberg) -- As the video game model evolves, Morgan Stanley expects the market to pay less for publishers until they develop a better sense of what works.
The success of free-to-play games like Fortnite by Epic Games and recently released Apex Legends by Electronic Arts Inc. are changing player behavior, as gamers may not see the utility of paying $60 for something they can get for free, analyst Brian Nowak wrote. And there's a trend of players enjoying the best games for longer, so success relies on offering the best content throughout the life of a game, he said.
"There is more uncertainty," Nowak said. "We expect the market to pay a lower multiple for these assets compared to recent history until it can get a sense of more consistent execution."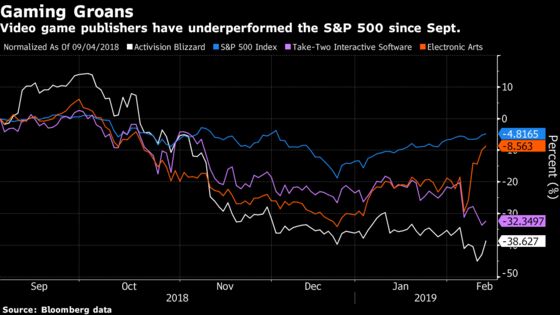 The way Nowak sees it, there are no more 'B' titles: gaming is now a world of 'As' and 'Ds.' Take-Two Interactive Software Inc. and Activision Blizzard Inc. need to prove that Rockstar and Blizzard still belong in the "best in class" bucket.
Meanwhile, Jefferies analyst Timothy O'Shea said the No. 1 question from investors is what is the impact of big free games like Fortnite. Business models may be evolving faster than investors appreciate and it's inevitable more free games will arrive.
On Tuesday, Activison Blizzard announced it planned to eliminate 8 percent of its workers as part of a restructuring. Management noted that sales of key games such as Call of Duty have been disappointing. And one key area of weakness is in-game purchases -- critical in an era when many titles are free to play and companies look to generate revenue by selling virtual outfits, tools and other content.
During the conference call, Chief Operating Officer Collister Johnson said that as the company increasingly brings Activision and Blizzard IP to the mobile space, investors will see the game publisher deploy more free-to-play models.
"We need to be able to move more quickly and we need to be able to rapidly evolve with the demands of our players in the market," Johnson said on the call.
Morgan Stanley's Nowak said publishers should strive to invest and experiment across all models, platforms and screens. "The success of Fortnite, strong early traction from Apex Legends, and positive results out of Zynga's mobile properties speak to the importance of product diversification," he wrote.