ViacomCBS Sinks After Announcing $3 Billion Share Offering
(Bloomberg) -- ViacomCBS Inc. declined as much as 10% after announcing a $3 billion stock sale, an effort to capitalize on a recent stock run-up and boost spending on its Paramount+ streaming service.
The company is offering $2 billion of Class B common shares and $1 billion of a preferred stock that is convertible into the Class B common, ViacomCBS said Monday. The shares are the company's nonvoting equity. The newly issued stock will start trading on March 24, Bloomberg News reported.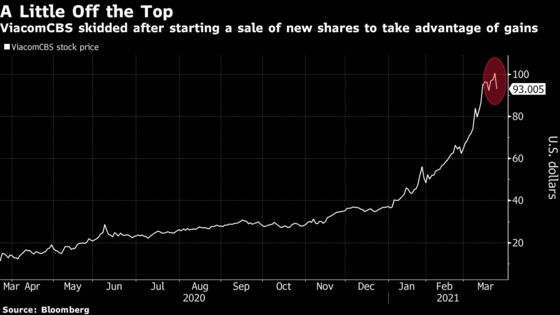 ViacomCBS, like other media giants, is pushing into streaming in a big way through Paramount+ and through Pluto TV, a free multichannel online service. The company also renewed its broadcast rights to the National Football League last week in a deal that will cost roughly $2 billion annually.
The stock sale follows a rally that turned the stock into the best performer in the S&P 500 this year, with a gain of almost 170% through Monday's close. Investors are betting that smaller media companies such as ViacomCBS and Discovery Inc. can use new streaming platforms to attract paying subscribers like those at Netflix Inc. and Walt Disney Co.
Shares of ViacomCBS were down 7.3% to $93.03 on Tuesday in New York after falling as low as $90.30, reflecting the dilution the offering will have on existing holdings. The Class A voting shares are controlled by National Amusements, the Redstone family's holding company.
Morgan Stanley and JPMorgan Chase & Co. are managing the offering. ViacomCBS granted them options to purchase up to $450 million in additional shares.