ViacomCBS, Discovery Defy Analysts With Perch Atop S&P 500
(Bloomberg) -- Media stocks ViacomCBS Inc. and Discovery Inc. are two of the best performers on the S&P 500 Index this year thanks to expectations that their late entrance into the streaming-video industry will boost revenue.
Since the end of July, the traditional media companies have more than doubled compared with a 20% gain in the S&P 500 Index. They are also up more than 40% this year, making them among the top three performers in the benchmark and even surpassing industry giant Netflix Inc. as investors seek continued exposure to streaming services favored by stuck-at-home consumers. ViacomCBS shares rose as much as 1.6% on Tuesday, while Discovery shares edged higher by less than 1%.
"Since the last round of conference calls, the media group has dramatically outperformed the market," with the companies' embrace of streaming the primary reason for their gains, said Cowen analyst Doug Creutz. The premiums given to leaders like Netflix and Walt Disney Co. have invaded the rest of the group, he added.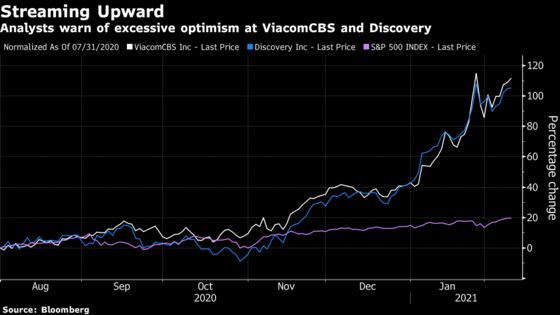 While ViacomCBS and Discovery are trading at price-to-earnings ratios well below Netflix and Disney, analysts are concerned that the increasingly competitive market will put a cap on future growth. ViacomCBS is launching rebranded streaming platform Paramount+ in the U.S. on March 4, and Discovery+ made its debut in January. The prospect of tough competition, coupled with the steep rally in shares, has led to a flurry of downgrades for the stocks.
Since the start of the year, ViacomCBS has been cut by at least six firms tracked by Bloomberg, while Discovery has been downgraded by two.
Media network stocks, particularly ViacomCBS and Discovery, have outpaced fundamental improvement in their businesses and appear to reflect optimism that the pivot toward streaming will pan out, according to KeyBanc Capital Markets analyst Brandon Nispel.
That could leave both stocks vulnerable to a pullback when they report fourth-quarter results later this month. Cowen's Creutz wrote that there had been fairly indiscriminate buying in media stocks with streaming services.
"While we believe it is reasonable to take a 'some will be OTT winners' approach to investing, we are a lot more skeptical about any 'all will be OTT winners' thesis," he said. OTT refers to over-the-top streaming, which is delivered directly to viewers via the internet.
At current levels, Discovery is about 19% above the average analyst price target while ViacomCBS is almost 30% above its own.
Investor expectations for Discovery+ and Paramount+ are high relative to the companies' track records for execution, Barclays analyst Kannan Venkateshwar said in a January note, lowering the stocks to underweight from equal weight.
"We find the optimism around some of these streaming launches like Discovery+ to be premature," he said.
UBS on Monday was the latest firm to cut ViacomCBS, saying Paramount+ should drive subscriber momentum but cautioning on upfront costs and the impact to existing revenues. Analyst John Hodulik also noted that ViacomCBS's transition to streaming will prove more challenging than peers given its focus on general entertainment, which is a highly competitive area of content.