Viacom Earnings Are Good. A Merger Would Be Better.
(Bloomberg Opinion) -- It's been a week since the earnings conference call heard 'round the media world.
CBS Corp., despite all the turmoil at the top, including but not limited to sexual harassment allegations against Chairman and CEO Les Moonves, wasn't asked a single question by analysts that would help give investors a sense of how management is running the business in the face of these large distractions. CBS may wish to carry on outwardly as if it's business as usual, but that's not the case. Moonves, the face of CBS who is credited with its ratings and recent digital success, could be around for another couple of years or about to get the boot — nobody knows, or at the very least they're not telling. 
On Thursday, the attention shifted to Viacom Inc., the other media entity controlled by media heiress Shari Redstone. Unlike Moonves, CEO Bob Bakish has found himself in her good graces. Viacom reported another period of encouraging results as Bakish and his team do the impossible — make MTV cool again. A big boost in its fiscal third quarter, though, came from "A Quiet Place," the horror film out of Viacom's challenged Paramount Pictures studio, which brought in more than $300 million in global ticket sales on a production budget of just $17 million.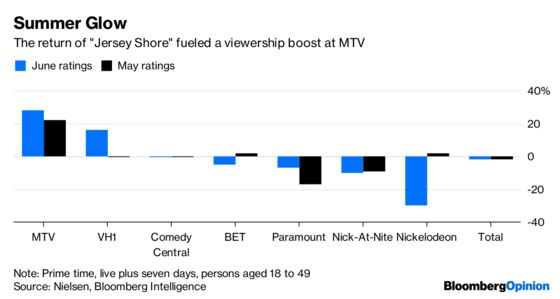 That said, Viacom is still under ratings pressure. Its domestic advertising revenue and affiliate revenue — the fees it earns from cable and satellite-TV packages — both slid 3 percent during the quarter. It's inevitable that CBS and Viacom will need to combine with each other or other rivals to gain the scale needed to compete with Netflix Inc., Walt Disney Co., AT&T Inc. and others. In this age, you need to own a wildly popular streaming service like Netflix, produce must-watch shows like HBO (now owned by AT&T) or have the prowess to either ensure your content gets into the top streaming bundles or be able to preserve your best content for your own apps, which is a position Disney hopes to be in as it acquires 21st Century Fox Inc.'s entertainment assets.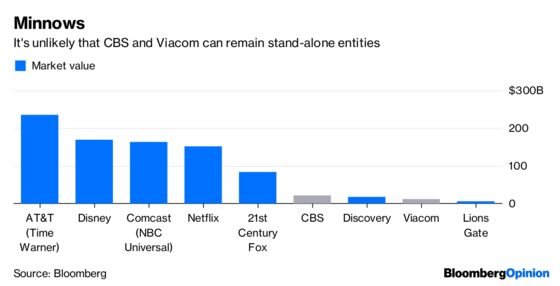 Redstone has wanted to put CBS and Viacom back under one roof, a move that probably makes sense, as I've written many times before. But Moonves and his allies on the CBS board have resisted and focused their efforts on seizing power from Redstone. Their nasty legal fight has spawned all sorts of juicy details for observers and revealed a dysfunctional, and at times sexist, boardroom culture. It also casts a cloud over the future of both companies. Right now we're left with more questions than answers. So I'll leave you with mine:
Who will run CBS should the investigation into Moonves or the legal squabble with Redstone push him out, as it likely will?
Is Redstone's plan to merge CBS and Viacom and make Bakish head of the combined company? Or is the goal to fairly quickly turn around and sell the combined entity to somebody else? Is that even possible? (The estate-planning documents for Sumner Redstone, Shari's ailing father, may restrict

the ability to sell the companies, according to a Wall Street Journal report on Thursday.)

What was Moonves's intended succession plan since the 68-year-old was considered to be heading for retirement in the not-too-distant future anyway? 
Can one of the oldest boards in America, with an average age over 70, really be the best to shepherd a digital entertainment business trying to capture younger audiences that have entirely different viewing habits?
Are there any serious third-party bidders for either CBS or Viacom now?

Finally,
Are we just living in a real-life episode of "Succession"?
This column does not necessarily reflect the opinion of the editorial board or Bloomberg LP and its owners.
Tara Lachapelle is a Bloomberg Opinion columnist covering deals, Berkshire Hathaway Inc., media and telecommunications. She previously wrote an M&A column for Bloomberg News.