Viacom Hits Six-Month High on Speculation CBS Deal Isn't Dead
(Bloomberg) -- Viacom Inc. investors are hearing wedding bells again.
Fresh speculation that the company will get acquired by CBS Corp. have sent the shares to a six-month high. The stock gained as much as 5.4 percent to $34.25 on Wednesday, marking the biggest intraday rally in nearly seven weeks.
Barton Crockett, an analyst at B. Riley FBR, said Wednesday that a deal within the next two years is "the most probable outcome." He also upgraded his recommendation on Viacom stock to buy.
"The momentum for media consolidation looks inexorable," Crockett, who already had a buy rating on CBS, said in a report.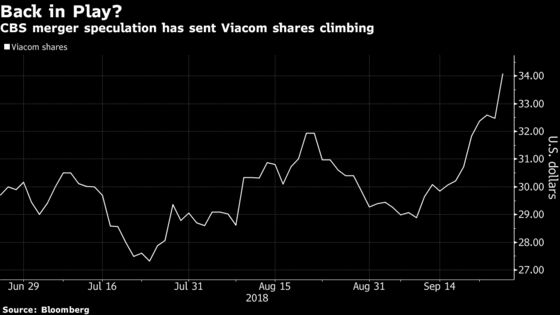 A merger has been discussed for years, but such a deal became less likely in the wake of a settlement this month between CBS and National Amusements Inc. -- the top shareholder at both media giants. That company, controlled by Shari Redstone and her ailing father Sumner, had proposed combining the two businesses, which were one entity until 2006. But National Amusements agreed not to pursue the idea for at least two years as part of the accord.
Still, that doesn't mean another party couldn't propose it. And other investors have discussed the idea. Mario Gabelli, the biggest independent holder of voting stock in CBS and Viacom, noted this month that the two companies could still merge. But other deals also are possible, he said. That includes a potential tie-up between Viacom's Paramount studio and Sony Corp.'s Columbia Pictures.
CBS's disgraced former chief executive officer, Les Moonves, had opposed a combination with Viacom. But he was swept out of power this month after a dozen women stepped forward to accuse him of sexual misconduct. Moonves had also led a campaign dilute the voting power of the Redstones, an effort that was neutralized by the settlement with National Amusements.
On Tuesday, CBS named named former Time Warner Inc. CEO Dick Parsons as its interim chairman, part of a broader shake-up of the board.
"The ugliest corporate governance problems" are now in the past, Crockett said. "We suspect that consolidation will again be front and center and, if CBS and Viacom can't find better suitors outside of the family, we believe they will look to reunite."