Verizon Says 44,000 Managers Qualify for Company Buyout Offer
(Bloomberg) -- Verizon Communications Inc. is offering buyout packages to as many as 44,000 management employees as part of a cost-cutting drive, potentially eliminating more than a fourth of its workforce.
The offer, which excludes executives in sales or crucial company roles, is part of a four-year, $10 billion cost-reduction program that Chairman Lowell McAdam put in place last year. A Verizon spokesman declined to say how many of the 44,000 managers are expected to take the offer and leave the company.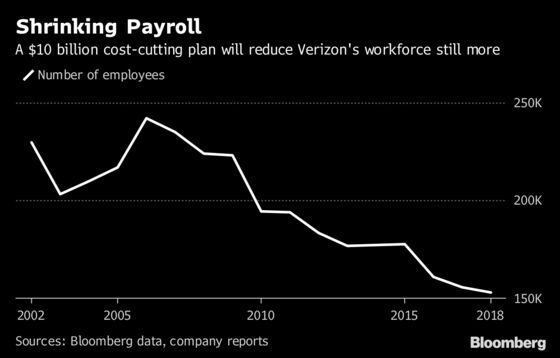 The largest U.S. wireless carrier's severance package is more generous than its last round of buyouts 13 years ago. The incentive includes three weeks' pay for every year of service, thanks in part to profit-enhancing benefits from new corporate tax laws. Prior buyouts included two weeks of pay for every year of service.
"Periodic buyout offers are typical, but a plan of this size is very unusual," said Kevin Roe, founder of Roe Equity Research. "And the buyout plan is particularly aggressive given Verizon's national 5G fixed wireless deployment ambitions."
Verizon is currently launching the nation's first 5G -- or fifth generation -- wireless service in a number of cities. The company is locked in a race with AT&T Inc. to roll out the new standard across the U.S., promising connection speeds between 10 and 100 times faster than today's cable.
Most of the buyout packages will be capped at 60 weeks, the spokesman said. Verizon had 153,100 employees as of June. The scope of the management buyout was previously reported by the Wall Street Journal.
The belt-tightening frenzy will likely raise questions about about Verizon's growth prospects, Roe said.
"Greater-than-expected headcount reductions often lead investors to ask if greater-than-expected revenue pressure is a driver," he said.