Verizon Muscles Into Europe's 5G Race With U.K. Outpost 
A giant of U.S. telecommunications is muscling into Europe's 5G race.
Verizon Communications Inc is opening a 5G tech showroom and production studio in London, its first outside of the U.S., complicating the push already underway among European counterparts like Deutsche Telekom AG and Vodafone Group Plc to land business customers.
The so-called lab showcases services enabled by the next generation of wireless broadband and invites partners to collaborate on developing new ways to use it. The studio, opening in April, will use 5G to speed up data-intensive content production like motion-capture for entertainment and marketing. It's all part of the company's bet on the new tech.
"We've pretty much bet the company on this -- it's not like we're dabbling," said Toby Redshaw, vice president of innovation at Verizon's business unit.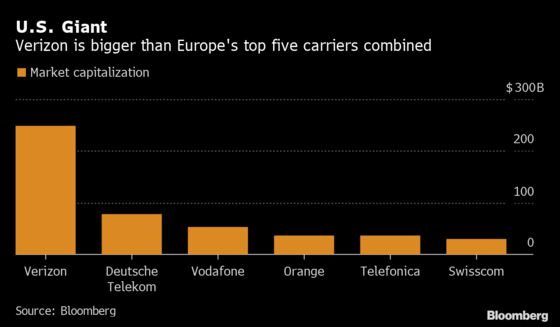 Carriers banking on a revenue surge from 5G aren't likely to get it immediately from consumers, who are unlikely to pay extra for faster smartphones. They are instead pinning their hopes for sales growth on deals in industries such as logistics, automotive and manufacturing, a market that could ultimately be worth $4.3 trillion according to consultancy KPMG LLP.
The outlook is still early, uncertain and competitive for these 5G services. And European carriers will have significant home field advantages: they already have relationships with the continent's biggest businesses, local cultural and regulatory know-how, and own more local network assets.
But Redshaw says Verizon's advantages include a head start from testing 5G in the field for years back in the U.S., and its larger scale. He was visiting London for the lab's opening and to woo prospective clients, and said he's had recent conversations with a Formula One team and other businesses. The company said the fresh London investment is "significant" but declined to give a number.
Examples of tech on display include cybersecurity visualization software, which lets a user fly around a virtual 3D landscape that represents their company's network to spot potential anomalies. A service called BriefCam can instantly crunch reams of video and apply searches for a range of objects, such as all the red cars in a day's worth of traffic footage, something a police force could find useful.