Verizon Trims 2020 Outlook Amid Fight Against Virus Impact
(Bloomberg) -- It's all about having good connections.
Both Verizon Communications Inc. and AT&T Inc. were bruised by the Covid-19 outbreak in March, but networks didn't topple as homebound families and front-line workers turned en masse to broadband connections and cellular service for essential communications.
Shares of Verizon and AT&T are up 14% and 10%, respectively, in the past month as investors seek signs of stability amid the pandemic's economic disruption.
Still, as with most businesses, the crisis has taken a toll on the carriers. Despite virus-related effects taking 4 cents a share from Verizon's bottom line in the first quarter, the company still topped Wall Street earnings estimates. But revenue fell short of expectations, and the company is revising its financial forecast for the year due to the pandemic.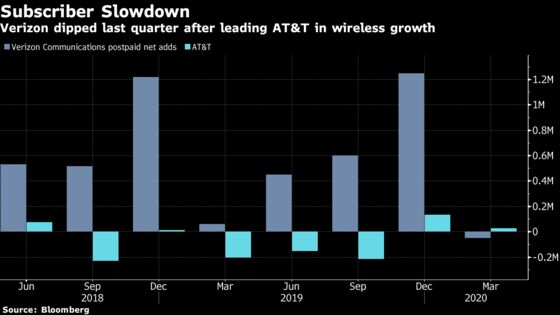 Verizon said full-year adjusted earnings will range from a decline of 2% to a gain of 2%, and it withdrew its revenue guidance. Previously, the company expected 2% to 4% profit growth and low- to mid-single-digit sales gains. Analysts predicted no earnings growth and a 1% revenue decline in 2020. First-quarter earnings of $1.26 a share beat analysts' estimate of $1.22, while revenue of $31.6 billion fell short of the $32.38 billion analysts predicted.
Verizon was hampered by phone-store closures and surrendered revenue by waiving penalties on customers who exceeded data limits. The company's downbeat outlook mirrors those of peers like AT&T, which saw Covid-19 take 5 cents a share from its bottom line in the first quarter and obscure its view of the rest of the year.
Verizon lost a total of 68,000 regular phone customers, in what is a seasonally weak post-holiday quarter. JPMorgan analyst Philip Cusick had predicted a loss of 100,000 phone customers.
The company spent $5.3 billion on capital investments, including network upgrades. Verizon is in a race with AT&T and T-Mobile US Inc. to capture the first customers looking for super-fast 5G mobile service. Last month, as the coronavirus was hitting the U.S., Verizon increased its capital-spending plan by $500 million to put more money into 5G wireless upgrades. The company plans to launch a nationwide 5G service this year.
Verizon shares were down 0.5% to $57.28 at 9:44 a.m. in New York.