Verizon, AT&T Spectrum Deals to Add Billions to Bond Pipeline
(Bloomberg) -- A rush from telecom giants such as Verizon Communications Inc. and AT&T Inc. to buy 5G wireless airwaves has added billions of dollars to the corporate bond sales pipeline.
The two wireless carriers have arranged a total of about $40 billion of bank loans that, once drawn, are expected to be largely repaid with new notes. This could buoy investment-grade bond issuance that's likely to fall short of last year's Federal Reserve-fueled record pace.
"Verizon and AT&T will need to tap the bond markets for a lot of money with proceeds to repay their delayed-draw term loans and to rebuild coffers," said Stephen Flynn, a Bloomberg Intelligence analyst who covers both companies.
Verizon committed $45 billion to buy spectrum, the highest bidder, followed by AT&T's promise to spend up to $23 billion on the air waves. The auction started in December, and within days the tally exceeded analysts' estimates of $47 billion to settle at $81.2 billion. T-Mobile US Inc., supported by its controlling stockholder Deutsche Telekom AG, was the third-highest bidder with $9.3 billion.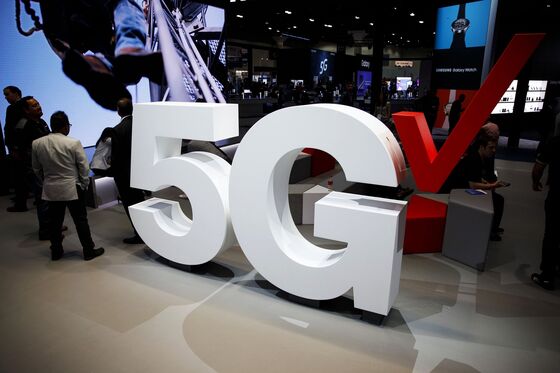 Verizon and AT&T would add to the more than $230 billion of investment-grade bonds that have priced so far this year.
Verizon signed a $25 billion loan with two banks to help fund the acquisition, according to a filling on Wednesday evening. The facility, which is currently undrawn, has a delayed-draw structure that means the company doesn't have to use its commitments until the sale goes through and it wants to borrow the money. Verizon will then have 364 days to pay the loan off, and must use any new debt borrowings or equity proceeds to do so.
Verizon sold $12 billion in bonds in November, in part earmarked for the spectrum costs, and has about $22 billion in cash on its balance sheet. The company has scheduled an investor day for March 10 to explain the financial implications of the acquisition and lay out a forecast.
AT&T signed a $14.7 billion loan with a group of banks in February for spectrum. This is also structured as a 364-day facility, and once drawn is expected to be paid off largely in the bond market.
AT&T is currently the most-indebted U.S. non-financial company with a total of $166 billion of debt on its balance sheet, offset by a cash position of around $10 billion, according to Bloomberg Intelligence. It's set to retain that spot, even after Verizon's larger spectrum acquisition, according to Flynn's analysis.
Both companies will see leverage, a key measure of debt to earnings, jump significantly, which could cause ratings graders to consider downgrades depending on how quickly each company commits to pay down the debt, Flynn said.
AT&T is rated Baa2 and BBB by Moody's Investors Service and S&P Global Ratings respectively, or two steps above junk, and A- by Fitch Ratings, four steps above the threshold. Verizon is rated Baa1 and BBB+ by Moody's and S&P, three steps above junk, and is also rated A- by Fitch.