Venezuelan Protests Turn Violent in Parts of Caracas
(Bloomberg) -- Venezuela's large anti-government protests turned violent in the afternoon, with mobs running from national guardsmen who fired dozens of tear gas canisters in the Altamira neighborhood of eastern Caracas.
Protesters, some carrying Molotov cocktails and hurling rocks, clashed with security forces at one of the main entry points to the Francisco Fajardo highway. Protesters veered away from motorcycles while slathering toothpaste under their noses to protect from the gases or covering their faces with their t-shirts. Shattered glass from busted advertisements around bus stops littered the road.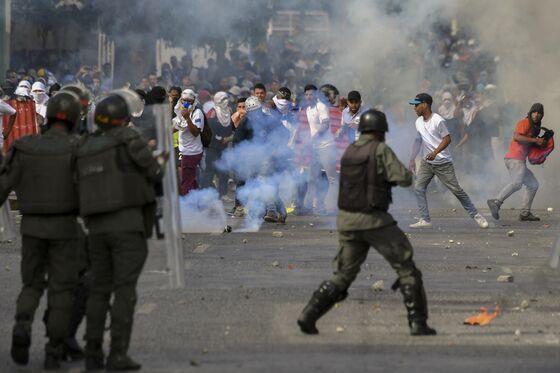 Venezuelans took the streets Wednesday in the biggest opposition rally in more than a year during which Juan Guaido, the president of the Venezuela National Assembly, declared himself the interim president of Venezuela. Despite heavy security presence, the protest had remained peaceful for most of the day. Government supporters decked out in red also gathered in downtown Caracas.
Foro Penal, a non-governmental organization, said that 47 people had been detained around the country during the protests on Wednesday.
Earlier this week, a number of rebel national guardsmen were detained in Caracas after stealing weapons, prompting spontaneous protests in support of the officers in a working class neighborhood of the Venezuelan capital. Newspaper Correo del Caroni, based in Bolivar state, reported that on the eve of protest a mob set fire to a Chavez monument in the industrial city of San Felix before toppling the statue and hanging the remains from a bridge. The Venezuelan Social Conflict Observatory reported more than 60 protests through the evening.