Venezuelan Legislators Ask Guaido to Fire Aides After Raid
(Bloomberg) -- Venezuelan lawmakers close to opposition leader Juan Guaido are calling on him to fire some of his aides following a botched raid on the country earlier this week.
Lawmakers from the main opposition parties want him to dismiss Juan Jose Rendon, the commissioner for general strategy, and Sergio Vergara, the commissioner for crisis management, six people familiar with the issue said. Guaido is considering doing so, according to three of them.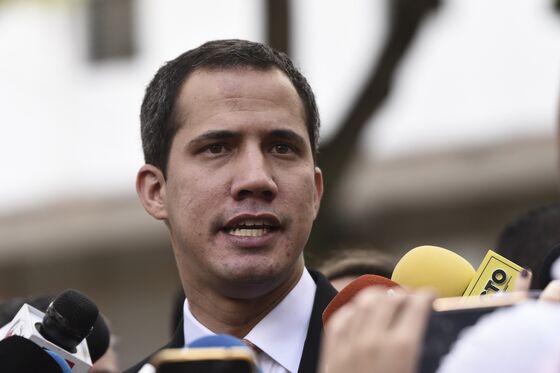 The two men allegedly signed a $212 million contract with Jordan Goudreau, a former Green Beret, who led the invasion, according to the people. The people asked not be named because they aren't authorized to discuss the subject publicly. Goudreau said previously that his Florida-based Silvercorp security company was organizing an armed operation in Venezuela to capture President Nicolas Maduro.
Goudreau complained that he only received $50,000 from Rendon, who said he ended the relationship and the contract because he lost faith in Goudreau. Rendon and Vergara didn't immediately reply to written requests for comment.
In 2017, Rendon sued Bloomberg LP, the publisher of Bloomberg News, for defamation. The case was dismissed and is now on appeal.
Venezuelan forces intercepted two boatloads of invaders and jailed 31, including two former U.S. soldiers. Eight people were killed. Guaido's allies are trying to distance themselves from the failed endeavor, which they say isn't in keeping with the coalition's principles.
Guaido has repeatedly denied any relationship with Goudreau. Documents publicized by Goudreau show what seems to be Guaido's signature on a preliminary contract and a video in which he spoke with him at least once.
The operation was staged by Maduro's regime to imprison and assassinate its enemies, Guaido said on a video posted on his social media. "They invent new excuses to maintain the persecution, to arrest me," he said. "To liberate Venezuela we have built capacity, we do not need foreign mercenaries."
The events have further complicated Guaido's hold on his position which has weakened in the 16 months since he was recognized by dozens of countries as the legitimate interim president of the country. Most of the opposition still backs him because they see no viable replacement, three of the people said.
Guaido is seen by many to be improvising in the crisis and failing to take responsibility, according to Caracas political analyst Dimitris Pantoulas.
"Venezuelans demand a political change and improvement of their lives," Pantoulas said. "Guaido has not achieved any of that."