Venezuela Wants to Add Jailed Food Czar to Negotiation Table
(Bloomberg) -- Alex Saab, a Colombian businessman jailed in Cape Verde for alleged money laundering in his dealings with procuring food goods for a Venezuelan government program, is awaiting extradition to the U.S. after losing multiple appeals. 
But if Venezuelan President Nicolas Maduro has his way, he'll be boarding a plane for Mexico instead, to participate in political negotiations with the opposition.  
That's the proposal unveiled Tuesday at least by Jorge Rodriguez, the head of the government's delegation in talks with political opponents. Maduro's allies will send notices to Norwegian mediators, a group of friendly observing nations and the opposition informing them about the decision, he said.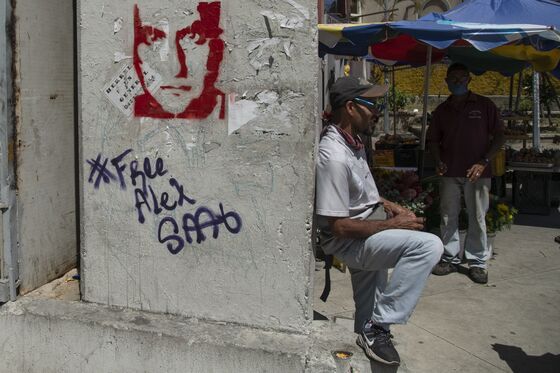 "Alex Saab has been kidnapped in a prison abroad for more than 400 days", Rodriguez said. The businessman helped Maduro manage a food imports scheme to bypass U.S. sanctions, Rodriguez said, calling the businessman a "diplomat." Saab "fulfills the conditions" to be a full member of the delegation, he said. 
Rodriguez didn't explain how the government planned to get Saab out of the Cape Verde jail, and there was no immediate reaction from the opposition or mediators. 
The opposition Unitary Platform rejected the government's move to include Saab in the negotiation out of hand, and asked Norway to enforce the rules of the talks. The announcement "corresponds to a defense strategy of the regime before a judicial process between two countries with separation of powers and democracy." 
Last week, Cape Verde's Constitutional Court rejected an appeal filed by Saab's legal council arguing the unconstitutionality of the extradition request filed by the U.S., where he faces money laundering charges. Russia, one of the countries advising the government in the Mexico talks, has openly criticized the ruling, arguing it could affect negotiations. 
Femi Falana, a counsel for Saab, said the judgment was unlawful and influenced by "political considerations" and that the legal team was going to ask for a review. Saab's lawyers had previously repeatedly claimed that his detention was illegal and politically motivated because of pressure from the U.S. government. He could face a life sentence in the U.S. if convicted, according to the defense.
Last month, opposition leader Freddy Guevara was released from a jail in Caracas where he was being held on dubious charges related to terrorism and treason to take part in the talks. Guevara replaced another opposition politician, Carlos Vecchio, who the government refused to accept in the negotiations.