Venezuela Turns to Russian Money Printer to Buy Millions of Bolivar Bills
(Bloomberg) -- The U.S. dollar is now the currency of choice in day-to-day transactions in Venezuela's hyperinflation-ravaged economy. Even the socialist leader Nicolas Maduro has grudgingly accepted its role.
But that doesn't mean that Maduro is ready to give up on the country's own currency, the bolivar, just yet. His government has turned to a state-owned money printer in Russia to purchase 300 million new bolivar bills. The notes will carry denominations ranging from 10,000 ($0.14) to 50,000 bolivars ($0.68), according to a copy of the contract between Goznak, as the printer is called, and Venezuela's central bank signed in November and obtained by Bloomberg News.
A Goznak press official declined to comment on the 6.8 million euro ($7.4 million) order. Requests sent to the press office at Venezuela's central bank went unanswered.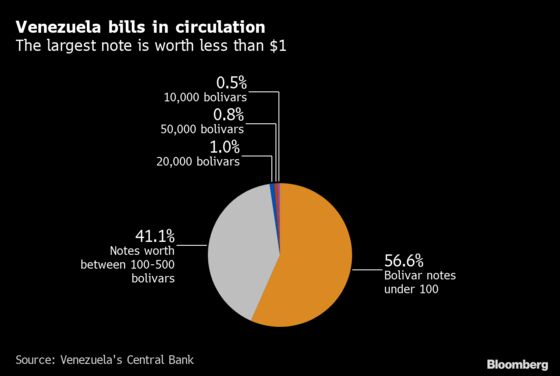 All told, the cash will be worth $143 million, a tiny sum as far as new bill purchases go, but also an amount that equals about a fifth of the country's money in circulation -- facts that attest to how years of hyperinflation destroyed the currency's value and impoverished millions of Venezuelans in the process.
In the past, the government has struggled to make good on its dues with bill suppliers. Last year, De La Rue, one of the world's largest makers of bank notes, reported a nearly $23 million hit due to outstanding debts with Venezuela.
According to its website, Goznak can produce up to 11,000 tons of banknotes a year. It also prints passports and stamps.