Venezuela Opposition Leader Detained and Released by Intelligence Police
(Bloomberg) -- Juan Guaido, Venezuela's opposition leader, was detained by secret police officers and released shortly afterward on a frenetic Sunday morning that highlights the nation's tenuous political state.
Guaido was en route to a rally outside Caracas when his vehicle was intercepted, according to a video disseminated by members of his party and other opposition leaders. The 35-year-old head of Venezuela's National Assembly was released a few minutes later.
"The regime tried to stop me, but nothing and no one will stop us," Guaido said in a message on Twitter published as he arrived at the rally in Vargas.
The incident came after Guaido spoke on Friday in front of about 1,000 people as part of a protest against President Nicolas Maduro's swearing-in ceremony. It was the first major political demonstration since hundreds of thousands of Venezuelans took to the streets in 2017.
Maduro has consolidated power and cracked down on dissent in the past year, but is now facing renewed pressure from Guaido. He's calling for a nationwide protest Jan. 23 -- the date in 1958 when opposition parties and soldiers overthrew military dictator Marcos Perez Jimenez.
The government sought to disassociate itself from what happened today.
"It was an irregular and unilateral action from a group of officials," Information Minister Jorge Rodriguez said on national TV.
Two journalists, Osmary Hernandez from CNN Espanol and Beatriz Adrian from Noticias Caracol, were also taken by intelligence police in Caracas, opposition leaders said. They were also released later.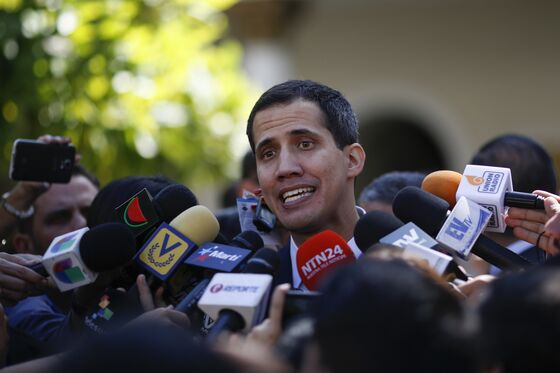 The U.S., Peru, Colombia, Chile and Argentina issued statements on Sunday in support of Guaido and the National Assembly, calling on Maduro's government to end "acts of intimidation" toward opposition leaders. National Security Adviser John Bolton said on Twitter that such acts represent "a grave assault on the rule of law in Venezuela."
On Friday, Bolton said that the U.S. regards Maduro as an illegitimate leader and that it will use all its economic and diplomatic power to "press for the restoration of a Venezuelan democracy."
Venezuela's government fired back. Bolton's comments are "an attempt from the supremacist elite that controls the White House to promote a coup d'état in Venezuela, attempting against the Constitution, democracy and peace in the country," Foreign Affairs Minister Jorge Arreaza said in a statement.