Varadkar's Government Suffers Blow as Brexit Crunch Looms
(Bloomberg) -- Irish Prime Minister Leo Varadkar's minority administration was dealt a blow by the unexpected resignation of a cabinet minister facing accusations of a conflict of interest.
Communications Minister Denis Naughten resigned on Thursday in Dublin, after opposition criticism over his meetings, including at least three dinners, with a company bidding to roll out broadband in what will be the biggest-ever investment in rural Ireland. Naughten denied any wrong doing.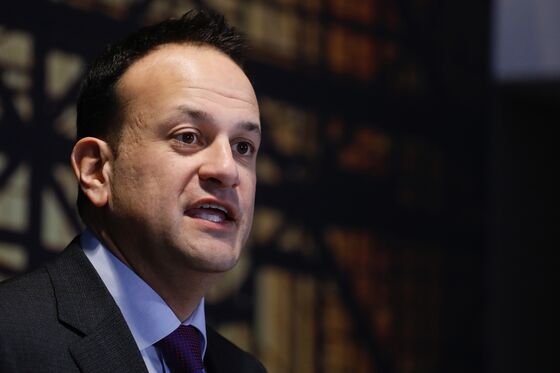 "I have no doubt his intentions were honorable, but I do believe he left himself open to allegations of conflict of interest," Varadkar told lawmakers in Dublin.
For Varadkar, the bigger problem may be the loss of a supporter of his minority administration if Naughten withdraws his support after his surprise resignation. Varadkar already relies on the biggest opposition party, Fianna Fail,to stay in power and the affair comes at a delicate time for the government as the Brexit process moves toward crunch point.
Ireland is backed by the rest of the bloc in wanting written assurances that the U.K.'s withdrawal from the bloc's customs union and single market won't lead to a return of checkpoints in Ireland that would stir memories of decades of violence between Catholic and Protestant groups. Leaders are due to meet for a European summit next week to assess progress in the Brexit process.