Fallen-Angels ETF Lures $160 Million in Bet on Bond Redemption
(Bloomberg) -- At least one trader is sending prayers to fallen angels.
VanEck Vectors Fallen Angel High Yield Bond ETF, ticker ANGL, received a $165 million cash infusion Monday, with about $160 million of that coming from a single trade, according to data compiled by Bloomberg. That marks 37 straight days of inflows for the $3 billion fund, which tracks formerly investment-grade bonds that were downgraded to junk.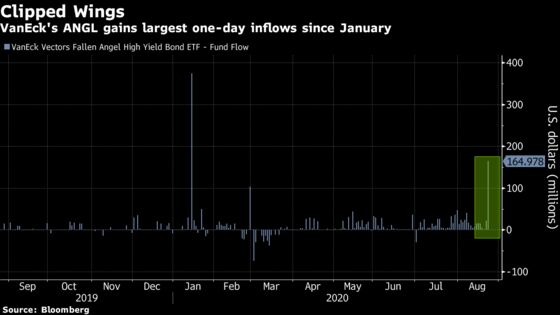 There's been a flurry of interest in so-called fallen angels recently as investors seek alternatives to the ultra-low yields on high-grade debt. Citigroup Inc. analysts said in a report this month that they see potential in companies that have recently fallen into junk status since investors are still underweight the category and positioning is becoming stretched in longer-duration high-yield securities.
Jeff Mueller, co-director of high-yield bonds for Eaton Vance Management, recently touted the category and his firm has bought into the VanEck fund. Lori Pomerantz, lead portfolio manager on the high-yield, bank loan and opportunistic credit teams at Goldman Sachs Asset Management Fixed Income, is also a believer, citing support from the Federal Reserve's steps this year to bolster the bond market.
Among ETFs tracking the category, recent downgrades now included in the funds are contributing to outperformance, wrote Morgan Barna, an analyst for Bloomberg Intelligence, in a recent report. Cuts to junk this year include Carnival Corp., Kraft Heinz Co. and Occidental Petroleum Corp., and ANGL -- which holds all three -- has surged more than 40% from its March low.
"An influx of downgrades to high yield have historically helped the fallen angel indexes outperform, and there are expectations new downgrades are still coming," she said in an interview. "New entrants tend to have higher credit quality, and it helps that most of these issuers intend to return to investment grade."
Following are the fund's biggest holdings as of Aug. 24:
| Name | Ticker | Position | Value (USD) | Change in Position | % of Total Asset Value |
| --- | --- | --- | --- | --- | --- |
| CCL 11 ½ 04/01/23 | BH495992 Corp | 52,875 | 58.5 million | 400 | 2.1 |
| S 6 ⅞ 11/15/28 | EC066567 Corp | 32,719 | 41.8 million | 275 | 1.5 |
| S 8 ¾ 03/15/32 | EC600408 Corp | 26,436 | 39.7 million | 175 | 1.4 |
| KHC 4 ⅜ 06/01/46 | LW952937 Corp | 36,875 | 38.1 million | 300 | 1.4 |
| VOD 7 04/04/79 | AX916964 Corp | 26,540 | 32 million | 178 | 1.1 |
| OXY 2.9 08/15/24 | AZ988250 Corp | 32,113 | 29.3 million | 150 | 1 |
| EDF 5 ¼ PERP | EJ516238 Corp | 27,775 | 29.2 million | 225 | 1 |
| NWL 4.2 04/01/26 | JK529756 Corp | 26,332 | 28.5 million | 50 | 1 |
| ISPIM 5.017 06/26/24 | EK345032 Corp | 26,425 | 28.4 million | 200 | 1 |
| KHC 5.2 07/15/45 | LW952932 Corp | 24,705 | 28.2 million | 215 | 1 |