Vancouver's Condo Vacancy Rate Falls to 0.3% in Rental Crunch
(Bloomberg) -- Renting a condominium in Vancouver has become almost impossible again, with owners finding it more profitable to sell units outright or offer them to tourists.
The condo rental vacancy rate fell to 0.3 percent, from 0.6 percent last year, making it the tightest market among major Canadian cities, according to an annual survey from Canada Mortgage and Housing Corp. The total vacancy rate for standard apartments in the Pacific coast city was 1 percent, the fifth year in a row it was at or below that level.
Rental units are in high demand as rising mortgage costs and tighter qualification rules force some families to save more cash for a down payment, the agency said. Meanwhile, Vancouver's population is increasing as the city's strong economy draws job seekers. The supply of rental condos fell over the past year.
"Investors either sold or re-purposed their properties," Eric Bond, a CMHC market analyst for Vancouver, said by phone Wednesday. Higher condo resale prices are an incentive to sell, while there's also evidence units are being rented to short-term vacation guests, he said. "That type of market, which didn't exist 10 years ago, is certainly giving investors a different option for that property."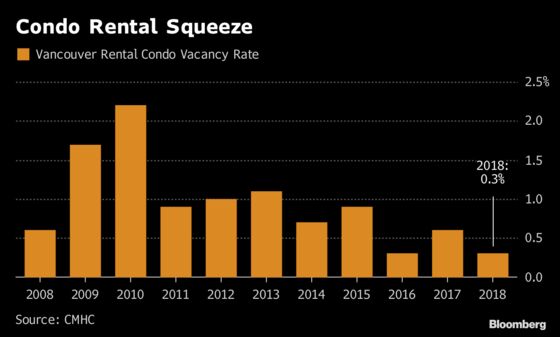 The number of rental condos fell 1.8 percent to 58,849 units in October, compared with a year earlier. That helped reduce the vacancy rate to a level last seen in 2016, which was the lowest in records back to 2008.
The rental market was tight across Canada, with the standard apartment vacancy rate falling for a second year to 2.4 percent, according to CMHC. Toronto's vacancy rate was 1.1 percent.
While Vancouver's condo market is tight for renters, it's even worse for those seeking larger units. The vacancy rate on three-bedroom apartments was zero in several neighborhoods, which Bond said reflects a lack of new construction of those types of properties over time.