Vail Resorts Sees a Late Winter Pickup in U.S. Skiing Demand
(Bloomberg) -- Vail Resorts Inc. has dug its way out of a downhill start to the ski season, finally getting a lift as end-of-winter data show stronger demand for snow-capped hills and the resorts that run them.
Shares climbed in nine of the past 11 sessions, gaining nearly 8.6 percent over the run to May 6 as investors soaked up improved visitation numbers for the North American ski season.
"There's been a noticeable improvement in demand for ski resorts," C. Patrick Scholes, an analyst at SunTrust, said in an interview. "We saw a nice uptick starting in January through April in that demand."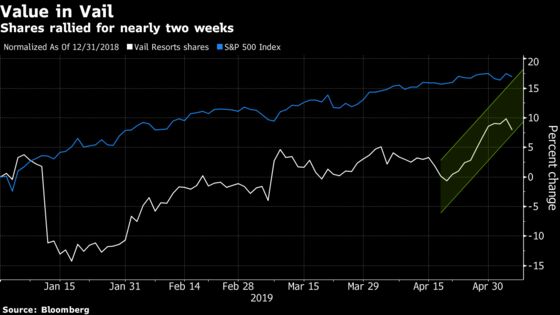 Scholes, who rates the stock buy, said the shares had previously taken a beating as investors feared poor performance in December would drag into low attendance and disappointing revenue for the full season. The stock slumped 36 percent from a Nov. 28 high to a low of $180.81 in mid-Jan.
The company's lift ticket revenue increased 9.3 percent from a season earlier, according to preliminary season data ended April 21. Dining revenue was up 7 percent and ski schools brought in 6.5 percent more than a year earlier.
"The results from the key holiday weeks through the spring were largely in line with our original expectations as we saw strong destination visitation following the challenging early season period," Vail Chief Executive Officer Rob Katz said in a statement late last month.
Katz noted strong pass sales growth among destination visitors and "good enthusiasm for our Epic Day Pass," a flexible one- to seven-day pass skiers can put $49 down on ahead of time to use at a number of Vail's different ski resorts.
Across the U.S., about 59 million skiers have taken to the snow this season, an 11 percent increase from the prior period, according to the National Ski Areas Association. It's the best fourth best season on record since the association started tracking in 1978.
Vail has ski properties in Colorado, Utah, near Lake Tahoe in California, Nevada, some scattered across the Midwest, as well as in Canada and Australia. The total number of season-to-date skier visits for Vail's North American mountain resorts climbed 6.8 percent from the prior season.
"In my view, the stock has been trading up because its given investors some relief," Macquarie analyst Paul Golding said. Shares also got a boost from seasonality "as you come out of the core ski season and winter snow-watch. The stock tends to trade up in that period because there's no risk of bad snow."
Analysts are broadly bullish on Vail, with Bloomberg data showing 7 recommendations to buy, 4 to hold and none to sell. The average price target is $242, implying about 6.2 percent upside to the stock's May 6 closing price.