Vaccine Maker Seeks Production Muscle in Coronavirus Fight
(Bloomberg) -- Inovio Pharmaceuticals Inc., one of a handful of companies racing to develop a coronavirus vaccine, is talking with larger drugmakers so it can deliver tens of millions of doses if successful.
The biotech company, based outside Philadelphia, aims to have at least 1 million doses available by the end of the year, then rely on bigger manufacturers to expand to as many as 50 million, Chief Executive Officer J. Joseph Kim said in an interview. That depends on clearing a number of hurdles, including studies in humans that are due to start by late spring or early summer, he said.
"We're running as fast as we can," he said.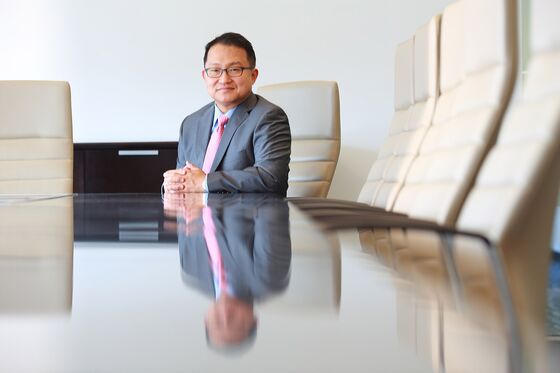 The pathogen is moving much faster. It has sickened more than 83,000 people in a couple of months, triggering concerns of a pandemic. Inovio, Moderna Inc., Johnson & Johnson and Sanofi are among companies striving to bring a coronavirus vaccine to the finish line. The urgency is rising as infections climb around the world. Nigeria, Africa's most populous country, on Thursday confirmed the first case south of the Sahara desert.
Developing vaccines is typically a risky and costly process that can take years. Often by the time the shots are ready, a health crisis has subsided, leaving drugmakers little incentive to carry on. Inovio, which is backed by up to $9 million in funds from the Oslo-based Coalition for Epidemic Preparedness Innovations, is among those trying to accelerate the timeline.
Inovio wouldn't be able to produce a vaccine in large quantities on its own. The resources and scale of giant companies would be crucial, as the use of Merck & Co.'s Ebola vaccine in the outbreak in the Democratic Republic of Congo highlights. Merck has donated 275,000 doses to the World Health Organization and is committed to making another 470,000.
"We're proactively establishing additional relationships" to scale up manufacturing, Kim said, declining to name potential partners. The company is talking with global pharma companies, Chinese manufacturers and others.
Inovio would need to find the right fit. There are a variety of methods to create vaccines, from Inovio's DNA-based technology to Moderna's messenger RNA approach, both of which instruct the body's cells to produce proteins that spark a protective response. J&J is relying on technologies used in developing an Ebola vaccine, which could allow the company to rapidly ramp up production.
"We would always consider" working with another company on vaccine manufacturing, Paul Stoffels, J&J's chief scientific officer, said in an interview earlier this month. "But the technology platforms which companies use are vastly different."
Inovio plans to publish initial immune-response data from tests in animals in the next couple of weeks and to have early data from U.S. and China clinical tests by this fall, Kim said. The company is working with partners including the Wistar Institute on the experimental vaccine, which matches the specific DNA sequence of the virus.
After the 2015-2016 Zika outbreak, Inovio and its partners got a vaccine into human testing in seven months. Today the company wants to move even more quickly.
Yet the Zika experience underscores the dilemma facing drugmakers. Work on vaccines to combat the mosquito-borne virus stopped or slowed as the epidemic ebbed.
"If there's no demand, it's hard for any developers to continue," Kim said.
SARS, also caused by a coronavirus, killed nearly 800 people in a 2002-2003 outbreak, and there still isn't an approved vaccine.
Inovio may have an edge because of its experience developing a potential shot for another coronavirus, called Middle East Respiratory Syndrome, or MERS, according to Bloomberg Intelligence. The company has said it was the first to move a vaccine against MERS into human testing and is preparing to start a mid-stage trial.
Making a vaccine available for the latest coronavirus within 12 to 18 months "is not outside the realm of possibility," Richard Hatchett, CEO of CEPI, said in an interview earlier this month. Still, "there are all kinds of ways vaccine development can be slowed or delayed."
Moderna said on Monday that it shipped a first batch of a potential shot to the U.S. government. A trial in humans could start in less than two months, while it might take a year and a half for a vaccine to reach the public, Anthony Fauci, director of the U.S. National Institute of Allergy and Infectious Diseases, said at a briefing earlier this week.
"We can't rely on a vaccine over the next several months to a year," Fauci said, adding that public health measures are the way to contain the coronavirus in the meantime. Even if the virus fades away soon, it's conceivable that it will "come back and recycle next year. If that's the case, we hope to have a vaccine."
Inovio doesn't see fellow drugmakers like Moderna as competition, according to Kim.
"Our real enemy is the virus," he said.