Vaccinated Yankees Test Positive for Covid, Drawing Probe
(Bloomberg) -- The New York Yankees have now had eight players and staff members test positive for coronavirus this week despite being vaccinated, leading to quarantines and drawing an investigation by the state health department.
The infected Yankee personnel -- all fully inoculated -- included shortstop Gleyber Torres, who also had the virus during the offseason, the team said in a statement Thursday.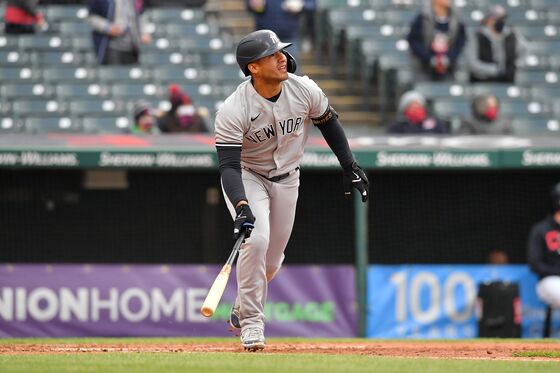 All of those who tested positive are under quarantine protocol in Tampa, Florida, as Major League Baseball and the New York State Department of Health advise the club.
"While there have been anecdotal reports of New Yorkers who have had a positive Covid test 14 or more days after receiving their last vaccine dose, DOH is investigating those cases along with the ones linked to the Yankees further to determine if they meet the formal CDC definition of vaccine breakthrough," a New York State Department of Health representative said in a statement.
Earlier Thursday, CDC Director Rochelle Walensky said more needed to be learned about the situation to understand what happened.
New York is scheduled to play the Tampa Bay Rays Thursday night.
The Yankees reached a vaccination threshold in late April that allowed the team to relax some health and safety protocols, MLB.com reported.