Utah Sues Purdue Pharma After Opioid Settlement Talks Founder
(Bloomberg) -- Utah sued OxyContin maker Purdue Pharma LP after talks sponsored by state attorneys general failed to yield a settlement over the company's handling of the opioid painkiller.
Utah Attorney General Sean Reyes said Thursday that after months of negotiations in the so-called multi-state talks with Purdue about its role in the U.S. opioid epidemic, the negotiations were "no longer effective."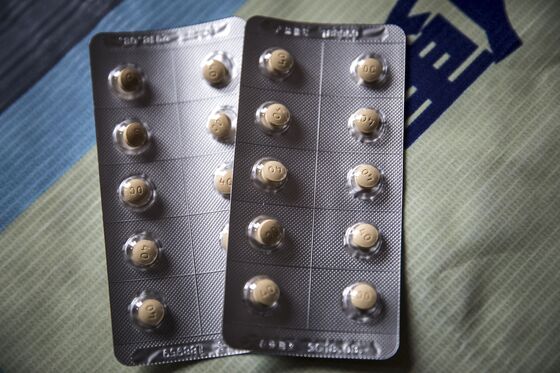 "There was some progress, and it was looking potentially hopeful that we would could come to a possible global settlement," Reyes said at press conference in Salt Lake City. "Unfortunately, with Purdue, things didn't continue to move, so that's why we decided to file now."
Reyes's comments raise more doubts about the viability of settlement talks aimed at addressing the public-health crisis caused by opioid addictions. More than 100 Americans die daily of opioid overdoses. Other attorneys general leading the multi-state talks filed their own suits last month against Purdue, Johnson & Johnson and opioid distributor McKesson Corp.
"We are disappointed that after months of good faith negotiations working toward a meaningful resolution to help the state of Utah address the opioid crisis, the attorney general has unilaterally decided to pursue a costly and protracted litigation process," Robert Josephson, a Purdue spokesman, said in an emailed statement.
Lawyers for Stamford, Connecticut-based Purdue approached some state attorneys general last year in pursuit of a quick and affordable settlement of lawsuits seeking to recoup the costs of dealing with the fallout from opioid addictions.
But Bloomberg News reported last month that the talks had snagged on the companies' unwillingness to talk about a multibillion-dollar settlement until their defenses to the opioid claims are tested in court. The companies have filed motions to dismiss in various state courts and argued Thursday that Alaska's case should be thrown out.
Despite Reyes's criticism of the breakdown of the Purdue negotiations, the multi-state talks are still ongoing, said Connecticut Attorney General George Jepsen. He is one of the leaders of the talks. The talks are "very much alive and I doubt that any of these companies will agree to a settlement outside the multi-state process," he said in an interview.
Separately, more than 700 cities and counties are suing the drugmakers and distributors in cases that have been consolidated before a federal judge in Cleveland. The first trial there is scheduled for March, although settlement talks separate from those hosted by the attorneys general continue.
The consolidated case by the cities and counties is In Re: National Prescription Opiate Litigation, 17-md-2804, U.S. District Court, Northern District of Ohio (Cleveland).