The Current State of U.S. Crops, in Charts
(Bloomberg) -- The USDA Crop Progress and Conditions report, which posted at 4 p.m. Monday in Washington, showed corn and soybean conditions dropping to their lowest point of the season in the week ending Aug. 19. Spring wheat harvesting continued at a high pace, exceeding all analysts' estimates for the second week in a row.
Below are USDA results compared to a Bloomberg survey of 12 analysts conducted before the report.
USDA
Latest
Analyst
Average
Estimate
 Range
USDA
Last Wk
Corn Rating
68%
69%
67%-71%
70%
Soybean Rating
65%
66%
65%-68%
66%
Spring Wheat Rating
74%
75%
74%-75%
75%
Spring Wheat Harvested
60%
52%
45%-55%
35%
Development stages for corn and soybeans remained above their averages last week as seen in the chart below. Corn that has reached or passed dented stage climbed 18 percentage points to 44 percent, ahead of its five-year average of 26 percent. Soybeans setting pods reached 91 percent versus an 83 percent average. Harvesting of spring wheat, which trailed its average three weeks ago, made another jump last week to 60 percent complete, 16 percentage points better than the average.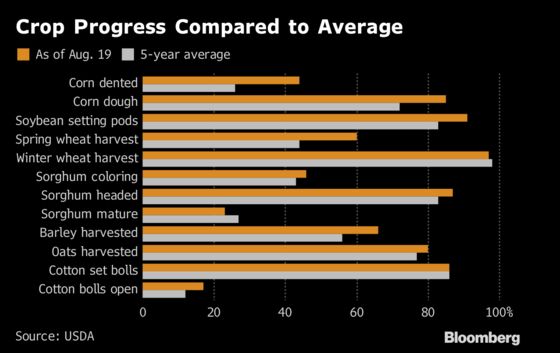 Corn crops rated good or excellent fell 2 percentage points to 68 percent last week after declining by a point in the previous week. Five of the top-10 growers were downgraded, including Iowa, the biggest grower, by 2 percentage points.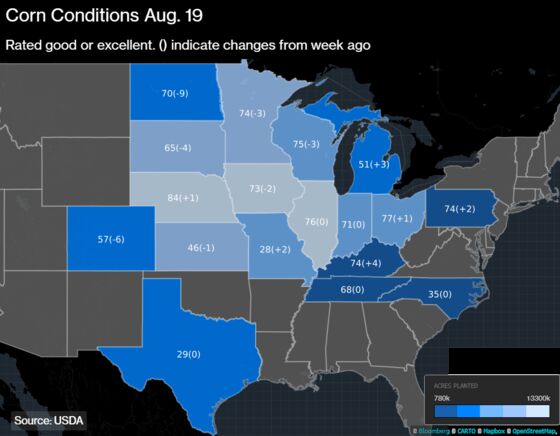 Soybeans rated good or excellent dropped by a percentage point last week, after falling by the same amount in the previous week. While Illinois, the biggest grower, remained unchanged, other top growers received downgrades including Iowa, Minnesota and North Dakota.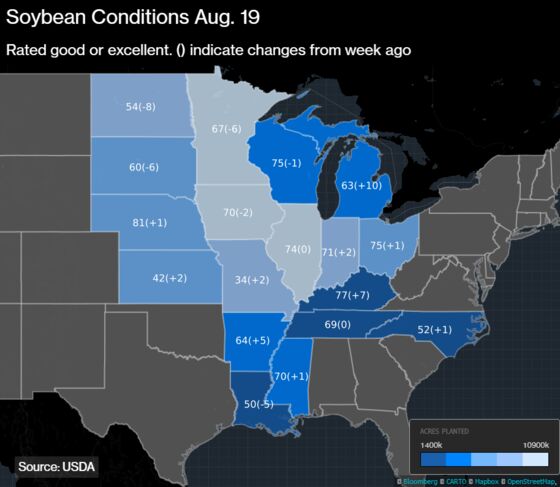 USDA estimates for corn and soybean conditions have been declining since receiving top marks at the start of the season, and now both crops stand at their respective averages. Corn crops rated good or excellent have fallen 11 percentage points since the start of the season, and soybeans have fallen 10 points.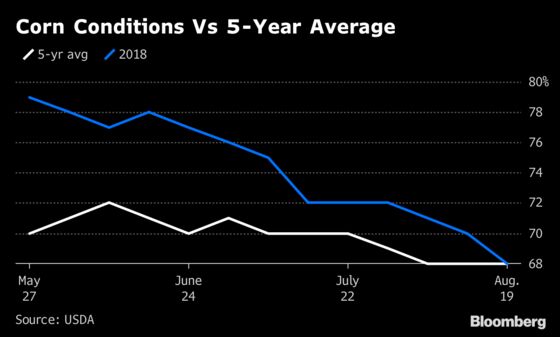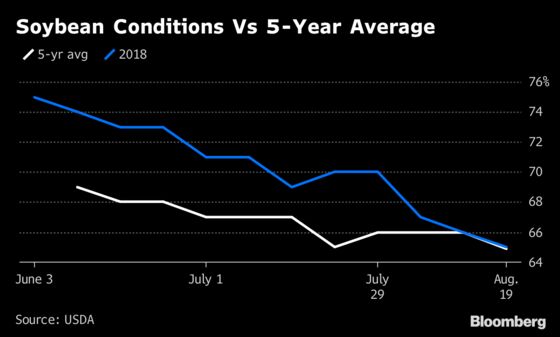 Spring Wheat Conditions Map
U.S. spring wheat graded good or excellent dropped by a percentage point to 74 percent last week. North Dakota, the nation's top grower, dropped by a point, while Montana and Minnesota, the second and third biggest growers, were each downgraded by 4 percentage points.