Unlikely Trade in Japan Bonds Gets Revived by Australian Funds
(Bloomberg) -- Bond investors Down Under are starting to look at a very unlikely spot for yield -- Japan.
While the Asian nation's huge bond market is now best known for negative rates and low returns, by using cross-currency hedges, Australian investors are able to juice returns, allowing them to earn around 2.3% when buying 10-year Japanese government bonds.
There has been "strong interest" from Australian investors wanting to buy hedged Japanese government bonds, Morgan Stanley analysts Belle Chang and Shoki Omori wrote in a note to clients.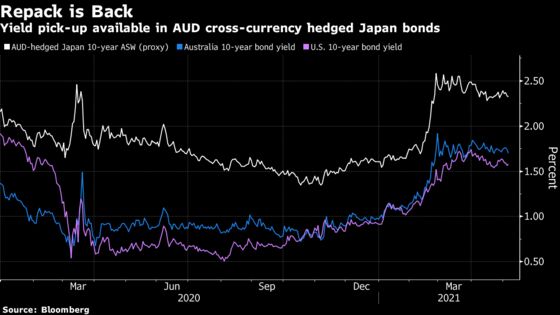 The flow goes against the recent trend of Japanese investors piling into Australian debt, attracted by low currency hedging costs and higher bond yields. Japanese investors were net buyers of Aussie debt for 11 straight months before offloading the bonds in February.
The market for owning hedged Japanese bonds via asset swaps for Aussie investors, known in investor circles as JGB asset swap repacks, hasn't been active for a few years but could make a return, wrote Martin Whetton, head of fixed income and FX strategy at Commonwealth Bank of Australia in Sydney.
A liquid high-grade domestic bond in the 10-year bucket yields 30 to 40 basis points less than an asset-swapped Japanese bond, which is "compelling," according to Whetton.