Universal Pictures Revives 'Deplorables' Satire Film 'The Hunt'
(Bloomberg) -- Universal Pictures reversed an earlier decision to cancel the release of "The Hunt," a film about the rich elite killing conservatives that ignited a firestorm of controversy last year.
The film from Blumhouse Productions opens March 13, the studio division of Comcast Corp. said in a statement Tuesday. Plans to release the satirical horror film were shelved in August following mass shootings in El Paso, Texas, and Dayton, Ohio, and a backlash against the liberals-hunting-conservatives storyline.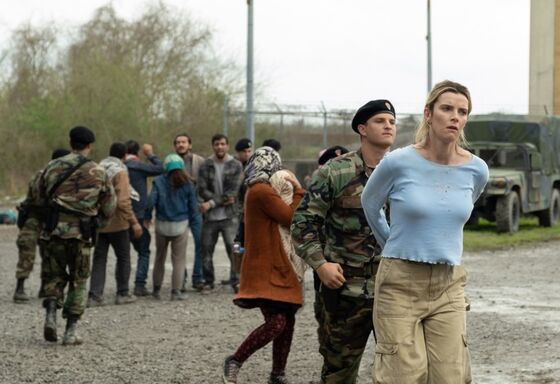 "The most talked about movie of the year is one that no one's actually seen," the producers say in a new poster for the film. "Decide for yourself."
In a series of tweets around the time "The Hunt" was pulled, President Donald Trump criticized the "racist" liberal Hollywood elite for creating a movie "made in order to inflame and cause chaos."
"The Hunt" follows 12 strangers who wake up in a forest clearing and realize they are being targeted for sport by rich elites, including a wealthy woman played by Hilary Swank. Two allegedly leaked lines of the script describe a character "going out to the manor and slaughtering a dozen deplorables."
The term "deplorables" was used by Democratic presidential candidate Hillary Clinton in her last election to describe some Trump supporters, and the leaked dialogue inflamed some online chat groups.
A description of the movie released by Universal and early trailer suggest the rich elite are the antagonists in the film. The heroine appears to be a woman who is captured and fights back.
Since last year, the film's website has carried only a statement explaining the decision to pull the picture: "After thoughtful consideration, the studio has decided to cancel our plans to release the film. We stand by our filmmakers and will continue to distribute films in partnership with bold and visionary creators, like those associated with this satirical social thriller."
"The Hunt" was directed by Craig Zobel. It's produced by Jason Blum of Blumhouse Productions, the heavyweight horror studio known for hits such as "Get Out" and "The Purge," and Damon Lindelof. It was written by Lindelof and Nick Cuse, who collaborated on the HBO series "The Leftovers."