Under Armour Falls Most in Year After Forecasts Disappoint
(Bloomberg) -- Under Armour Inc. fell the most in more than a year after its long-range forecast disappointed investors, suggesting that a bid to make over the athletic brand will take longer than expected.
The athletic footwear and apparel company said in a statement that it expects earnings per share of 31 cents to 33 cents next year, compared to the 33-cent average estimate of analysts surveyed by Bloomberg. Revenue growth is targeted at three percent to four percent in 2019, trailing the average estimate of five percent. The forecasts were made in conjunction with the company's first investor day since 2015.
The shares slid 10 percent at 4:01 p.m. in New York, their biggest intraday drop since Oct. 31, 2017. The stock has lost 18 percent over a four-day skid, paring its year-to-date gains to 37 percent.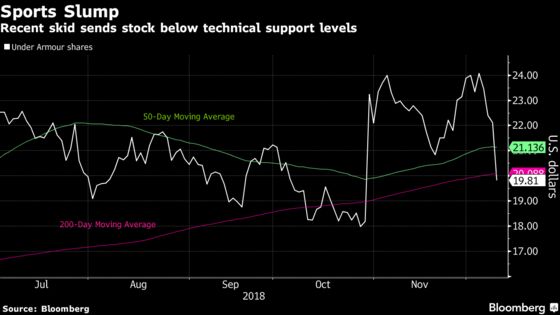 The upcoming year is a critical one for Under Armour. After a rough 2017, the company spent most of 2018 resetting its business, clearing an excess of inventory, eliminating under-performing products and improving the time it takes to create and sell product. Executives say the next 12 months will show the power and capability of the new Under Armour. A slide shown to shareholders Wednesday identified 2018's slogan as "Get to Work" and 2019's as "Execute."
Under Armour said it expects annual revenue growth in the low-single digits from 2020 to 2023 in North America. The company sees revenue growth in Europe, Middle East and Africa in the mid-teens from 2020 to 2022 and the high-single digits in 2023. Revenue growth is targeted at low-double digits in Latin America and in the mid-20 percent range for Asia Pacific.
Revenue growth is expected to return to a low double-digit growth rate by 2023, including a mid- to high-single digit compound annual growth rate driven primarily by strength in the international and direct-to-consumer businesses. The annual operating margin is expected to reach a low double-digit percentage by 2023, Under Armour said.
Stifel analyst Jim Duffy said earlier that the five-year views look like "manageable objectives that will likely prove conservative" over time. Analysts surveyed by Bloomberg estimate total revenue growth in the 5 percent to 8 percent range from 2019 to 2023.
Ahead of the investor day, Under Armour options were pricing in about a 7.3 percent move in the shares, and the current implied volatility jumped to 98 percent versus a three-month average 57 percent.