Under Armour Probe May Loosen Plank's Grip on Operations
(Bloomberg) -- Under Armour Inc. founder Kevin Plank has maintained control over the sportswear company even after stepping down as chief executive officer -- but a federal accounting investigation could loosen his grip.
The brash executive remained the chairman and largest shareholder even after relinquishing the CEO role in January after 23 years. Last October, Plank told Bloomberg TV that he would remain heavily involved in the business.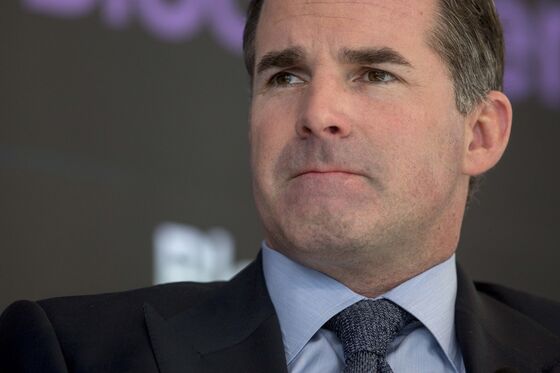 But Under Armour "no longer has to live and die by a single person," said Simeon Siegel, an analyst at BMO Capital Markets. "I think at the end of the day, in every race there is a time to pass the baton."
Plank and Chief Financial Officer David Bergman received notices that the U.S. Securities and Exchange Commission is likely to allege violations of federal law, Under Armour said Monday in a regulatory filing. The disclosure follows last November's announcement that the company had been under federal investigation for more than two years.
The investigation relates to how Under Armour disclosed its sales in late 2015 and 2016. Former executives told the Wall Street Journal last November that the company borrowed sales from future quarters to mask slowing demand. Under Armour has maintained that it did nothing wrong.
A former football player at the University of Maryland, Plank embraced the role of a scrappy underdog against multinational rivals Nike Inc. and Adidas AG. Throughout his tenure as CEO, he has been unapologetically outspoken, especially when talking about his competitors. He used to send Nike's Phil Knight holiday cards as a warning that Under Armour was coming for the Swoosh.
But Under Armour has lost much of its swagger -- even before the global pandemic upended the retail and apparel industries. Sales have stagnated over the past four years and the company is undergoing a multiyear restructuring plan under current CEO Patrik Frisk.
Under Armour shares rose as much as 2.3% on Monday in New York trading, erasing an earlier decline. The stock had slumped almost 50% this year through Friday.
Plank's degree of involvement with Under Armour operations may hinge on whether the SEC can prove wrongdoing occurred. He hasn't shown any interest in fully relinquishing the reins and likely won't step back if he can fend off any charges, said Poonam Goyal, an analyst at Bloomberg Intelligence.
"He built the company," Goyal said.