Under Armour Analysts Cheer Second Quarter of Margin Improvement
(Bloomberg) -- Under Armour Inc.'s fourth-quarter results and forecasts initially started a tug-of-war in pre-market trading, and a stock decline of as much as 5 percent in early trading before more bullish heads prevailed.
Investors appeared to take comfort in the improved gross margin and maintained year forecast, and Piper Jaffray noted that investors were probably prepared for a weak first-quarter guide. Cost controls, clean inventories and lower promotional activity were also noted as positives.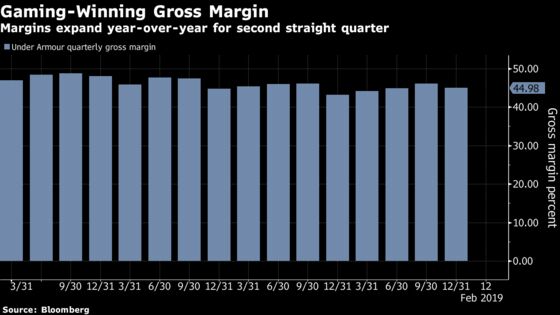 Shares rose as much as 8.5 percent, the biggest intraday gain since Oct. 30, to $22.55. Short interest is at a 52-week low of about 22 percent of float, according to Markit data. Stifel analyst Jim Duffy, who rates shares buy (price target $30), expects to see a "wave of bear capitulation as the year unfolds" given solid execution and the company's capacity for gross margin expansion.
Here's what Wall Street analysts said about Under Armour following the call:
Gross margin expanded y/y for the second quarter in a row, after 13 quarters of declines, while "inventories are at their cleanest levels in years"
With 12% drop in inventory, reduction in SKUs, lower promotional activity and improved sales trends, gross margin should continue to move higher
2019 forecasts were maintained and look "very beatable"; sees "better days ahead" for North America
Believes UAA is one of the key beneficiaries of a growing China economy
Still, Konik wasn't impressed by the Latin America region, EMEA losing money and sales deceleration in North America
Sees continued earnings beats ahead; rates buy, price target $28
Piper Jaffray, Erinn Murphy
While 1Q was forecast "below the Street, we believe investors were somewhat bracing for this given some of the business model changes they are lapping from a year ago"
The gain in the stock reflects "solid shareholder support"
Key highlights: promotional activity down by a third from 2017; strong response to recent HOVR expansion in 2019; operating cash flow improvement to $628 million from $238 million; accelerated paydown of debt; reiteration of 2019
Views gross margin as "the key potential upside driver"
Rates overweight, price target $30
What Bloomberg Intelligence is saying:
"The first phase of Under Armour's turnaround -- inventory reduction and margin expansion -- is near completion, and focus shifts to reigniting the brand, which in our view could prove more challenging."

"Outlook for flat-to-slightly down revenue, with about 25 bps of gross-margin expansion in 1Q fell short of consensus as the company increases margin-dilutive sales to the off-price channel."

"Inventory declined 12% in 4Q and is projected to continue to shrink at a similar pace in the near future, signaling continued focus on full-price sales and gross margin. SG&A remains under control and sales are expected to outpace costs in late 2019 and in 2020."
-- Chen Grazutis
B.Riley FBR, Susan Anderson
"Today's report showed a worsening top line both from DTC and international, which are UAA's two top growth drivers, and deteriorating international profit, which is expected to be a margin driver longer term."
2019 guidance is second-half loaded for both sales and earnings
Off-price sales in international will still "bolster 1Q total sales, making growth more difficult going forward as off-price sales will taper off" during the year
4Q EBIT margin improvement was driven by North American and APAC; all other international regions declined in profitability
1Q guidance showed "little evidence of a turn in the business toward longer term goals"; rates sell, price target $12
Macquarie, Laurent Vasilescu
Back-end weighted 5-year guide is now coupled with a back-end weighted 2019
Gross margin were "the one positive after margins were down 150bps in 4Q17," but 2019 gross margin will also be back-end weighted
License revenue filled the void in 4Q and will likely continue to do so in 2019
While inventories were down 12%, "the true measure is days in inventory which remain very elevated at 131 days"
On international, thinks "the most interesting comment on the call was with respect to applying distribution pullback and inventory rationalization -- we should expect significant deceleration in international driven by APAC and EMEA"
Rates underperform, PT $8