UBS to Move Tokyo Rates Trading to Sydney in Asia Revamp
(Bloomberg) -- UBS Group AG will relocate its Tokyo-based rates trading business to Sydney by the end of this year as the Swiss bank reorganizes its Asia-Pacific operations.
The firm has initiated the process to relinquish its Japan Government Bond primary dealership, though the change won't impact UBS's other fixed-income trading businesses conducted with Japanese clients, it said in a statement Friday.
The departure is a stark reminder of how the Bank of Japan's massive bond purchases have strangled trading activity. While the central bank has cut back buying, it still owns almost half of the government-debt market, while its yield-curve control policy limits fluctuations in prices, squeezing trading opportunities.
"UBS has the competitive edge in Australia's rates trading, so it could be a reason behind the decision," said Akira Takei, global fixed-income money manager at Asset Management One in Tokyo. "Due to the Bank of Japan's yield-curve control, the nation's bond market is almost like a fixed-rate system, which may have affected their decision."
The move also strikes a blow to Japan's ambitions to make Tokyo an international finance hub as turmoil in Hong Kong tests that city's longer-term stance as a key center in global markets.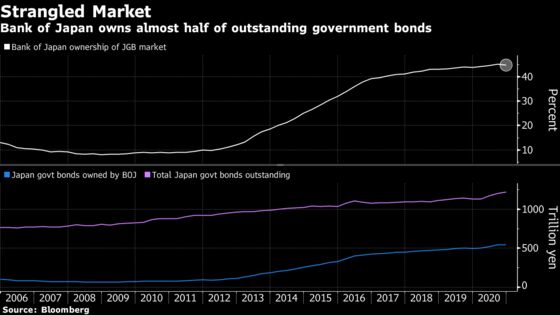 The UBS decision follows a strategic review of its global rates trading structure, according to Friday's statement. The firm will continue to participate in yen fixed income trading and will maintain JGB holdings needed for collateral and funding in addition to foreign-exchange trading, the statement said.
"We see long-term potential for fixed income products in the Japanese market, and this realignment will position us to evolve and expand our services in the years ahead," Zenji Nakamura, UBS's Japan country head, said in the statement. "We are deepening investments across our full range of investment bank, wealth management, and asset management offerings in Japan."
UBS is one of the 21 primary dealers in Japan. According to data published by the Ministry of Finance this month, the bank wasn't among the top 10 participants in auctions from October to March. Each dealer is required to bid for at least 5% of each JGB auction.
When UBS leaves, "perhaps the MOF might raise the minimum requirement again as 20 time 5% just covers the float and it would not be covered if any others were to withdraw," said Michael Makdad, an analyst at Morningstar Inc.
By contrast, BNP Paribas SA in August said it's strengthening its yen bond team amid expectations for renewed volatility in long-dated Japanese sovereign debt.
Separately, UBS cut the number of wealth adviser staff in Asia last year, according to a report from Asian Private Banker. The region's largest employer of client advisers saw its private banking relationship manager headcount in Asia drop by 12.5% in 2020, driven in part by restructuring.
The drop at the Zurich-based lender, Asia's largest employer of client advisers, was driven in part by restructuring during the opening stages of 2020, the Hong Kong-based publication said. Still, UBS Global Wealth Management retained its top ranking in Asia with $560 billion under management, up about 24% from the previous year.
UBS last year started a global restructuring of its wealth management business to cut costs and speed up decision making.