UBS Sees SNB Rate Rise Only in 2020 Amid Mounting Europe Risks
(Bloomberg) -- The Swiss National Bank isn't likely to move interest rates off their current record low until next year as a result of the deteriorating economic environment in Europe, UBS Group AG said.
Switzerland's central bank is forecast to raise its deposit rate of minus 0.75 percent only in March 2020, according to the lender, whose previous forecast had been for a first increase in late 2019. Policy rates won't return to positive territory before 2021, it also said.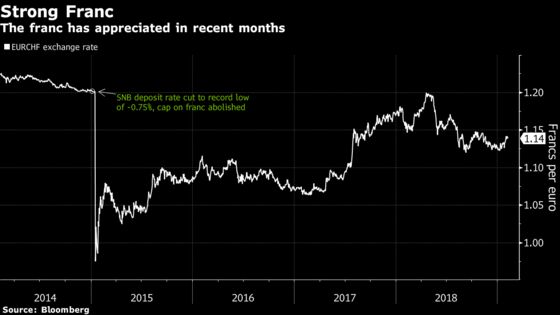 "In the past few years the SNB has kept its policy rates below those of the European Central Bank to prevent a further appreciation of the franc," UBS economist Alessandro Bee said in a note published on Wednesday. "In light of the big economic and political risks it should stick to this strategy and undertake a first rate rise at the same time as the ECB."
The likelihood of the SNB moving prior to the ECB was "low," he said.