UBS Pays New CEO $4.5 Million in First Four Months
(Bloomberg) -- UBS Group AG boosted its bonus pool by almost a quarter and paid new Chief Executive Officer Ralph Hamers a 3 million franc bonus ($3.2 million) to reward him for this first few months in charge, more than he typically earned for a full year at ING Groep NV.
UBS set aside $3.3 billion for variable compensation last year, a 24% increase compared with 2019, according to the Zurich-based lender's annual report on Friday. Hamers earned a total of 4.2 million francs during his first four months on the job including the bonus. The bank said 80% of the performance award is subject to deferral and forfeiture provisions.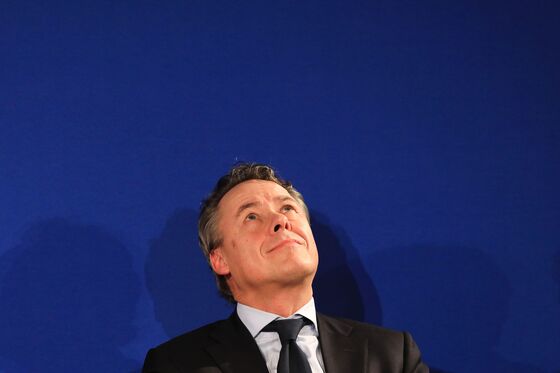 UBS is giving a first official view on how European banks are rewarding executives and traders during a year in which many saw surging profits from trading as the pandemic increased volatility. Amid the economic and markets turmoil, UBS' loan book proved resilient and the investment bank saw pretax profit more than double in the fourth quarter.
UBS may have greater flexibility on pay than banks based in the European Union, where the European Central Bank has called on lenders to exercise restraint amid the economic slump. Deutsche Bank AG scaled back plans for its bonus pool after the ECB objected to proposed payout levels, people familiar with the matter said.
Former UBS CEO Sergio Ermotti who left to become chairman at reinsurer Swiss Re earned 13.3 million francs last year, up from 12.5 million francs in 2019.
Hamers earned about $2.16 million annually while leading ING, a role that continues to cast a shadow over the new CEO's job in Zurich amid a legal probe into a money laundering scandal. Attempts to boost his pay in the Netherlands to bring it more in line with peers were abandoned twice after opposition from Dutch politicians.
"Ralph Hamers fully embraced UBS's core behavioral values and drove measures to improve collaboration, ownership and accountability" during his first months in charge, UBS said.
UBS executives including chairman Axel Weber also still face the prospect of reduced bonuses from 2019, depending on the outcome of a retrial in France starting March 8 of a tax-evasion case that had seen the bank handed a $5 billion fine.
The bank said it started the search for a new chairman early this year and plans to name a successor to Weber at the annual shareholder meeting in 2022. Both Weber and Hamers are involved in the search process, UBS said. Weber's 2020 compensation of 5.2 million francs remained flat compared to the previous year.