UBS's Investment Banking Fees Surge as Trading Lags Wall Street
UBS Group AG's investment bank capitalized on the surge in dealmaking sweeping the globe as the worst of the pandemic recedes, while lagging behind U.S. peers in equities and fixed-income trading.
The Swiss bank said third-quarter fees from advising companies on mergers and acquisitions jumped 78% from a year earlier, helping to lift the investment bank's pretax profit to the highest in several years. Still, the firm posted a smaller jump in equities trading -- which accounts for the bulk of the unit's revenue -- than most U.S. banks.
UBS's pivot to focusing on wealth management over the past decade has left it with a sm
aller investment bank than U.S. rivals, but one that has maintained high levels of profitability. The record pace of mergers and active markets have lifted the results of firms on both sides of the Atlantic, with 2021 already the peak profit year for the biggest Wall Street firms.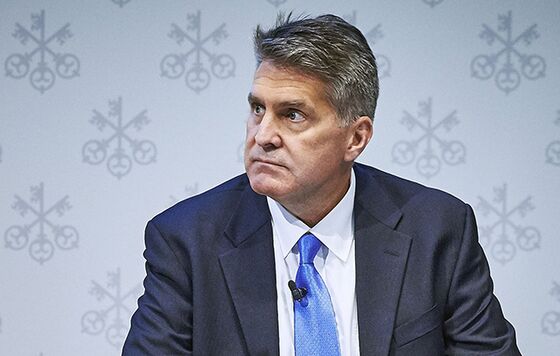 The Swiss firm's equities revenue increased 24%, excluding a one-off gain from a year earlier, compared with an average 35% increase across U.S. banks. UBS also reported a 32% drop in fixed-income trading, a steeper decline than the American peers. 
UBS gained market share in cash equities in Asia Pacific, driven by U.S. institutional activity trading into Asia around the volatility of recent months, Chief Financial Officer Kirt Gardner said. It also did more prime brokerage business, specifically in prime financing, but without adding risk capital to the investment bank, Gardner said. Crosstown rival Credit Suisse Group AG reduced the size of its prime brokerage by more than a third after it took a $5.5 billion hit from the collapse of Archegos Capital Management. 
For more coverage of UBS's third-quarter results:
UBS CEO Says Clients Seeking Trades to Protect from Inflation
Capital markets fees climbed 4%, driven by equity raises. 
Overall, UBS posted a surprise jump in third-quarter profit as wealth management fees soared the most in almost three years. The bank's net profit in the first nine months of this year has climbed 24%.
The bank warned that client activity would be lower in the fourth quarter given persistent economic, social and geopolitical tensions. Recent policy changes in China and its recovery from the pandemic could also affect both client-activity levels and asset prices, the bank said.