UBS Goes Overweight Two-Year Italian Debt After Budget Standoff
(Bloomberg) -- The recent clash between Italy's populist government and the European Union over its ballooning budget deficit has created an attractive buying opportunity for shorter duration Italian sovereign debt, according to UBS Group AG.
The bank initiated an overweight position in two-year government bonds versus cash as there is "only a very low probability that Italy will default within the next two years," according to a note from Mark Haefele, chief investment officer at UBS Global Wealth Management.
"We believe the recent sell-off presents investors with an attractive opportunity to buy Italian two-year bonds," the note said. "We caution, however, against holding long-dated Italian bonds and advise against any concentrated exposure to them."
There are plenty of risks for investors, including escalating political tensions, a breakdown in the government coalition, or if the country's credit rating does drop below investment grade, according to UBS.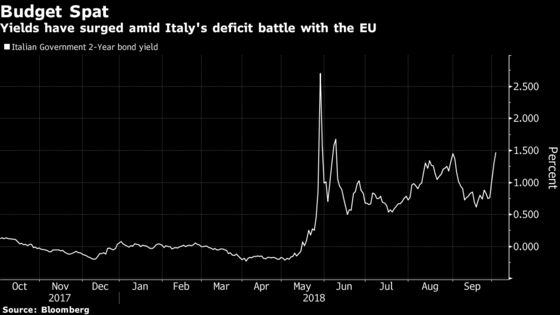 Yields on Italian two-year government debt have jumped more than 60 basis points in the past week, to around 1.49 percent on Tuesday.
The surge may be short-lived as the Italian government will reportedly bow to EU pressure to reduce its budget deficit to 2 percent of gross domestic product in 2021, backing off from an earlier ceiling of 2.4 percent, Corriere della Sera reported citing a cabinet meeting.