Ermotti's Future Sealed as UBS CEO Becomes Swiss Re Chairman
UBS Group AG outgoing Chief Executive Officer Sergio Ermotti has been picked to take over as chairman of reinsurer Swiss Re AG next year, ending speculation about his next job and throwing open the race to succeed UBS chairman Axel Weber.
Swiss Re will nominate the 59-year-old for election as a non-executive member of the board in April for a one-year term of office, with Ermotti set to succeed Walter B. Kielholz next year, the reinsurer said in a statement on Tuesday.
"It is a lucky situation that we have such a heavyweight successor," Kielholz said on a call with journalists. The UBS banker won't be able to take on the chairmanship of another listed company, since he will spend up to 70% of his time in his new role at the global reinsurer, Kielholz said. That rules Ermotti out of extending his time at UBS, ending speculation he might bid for Weber's role.
In a surprise announcement, UBS last month said Ermotti would be replaced by ING Groep NV CEO Ralph Hamers, effective November. The head of UBS since 2011 is ending his term as the bank prepares to challenge a multi-billion-euro French fine as well as revamp its key wealth management business. He's one of longest-serving CEOs at a European bank, in his ninth year in the job.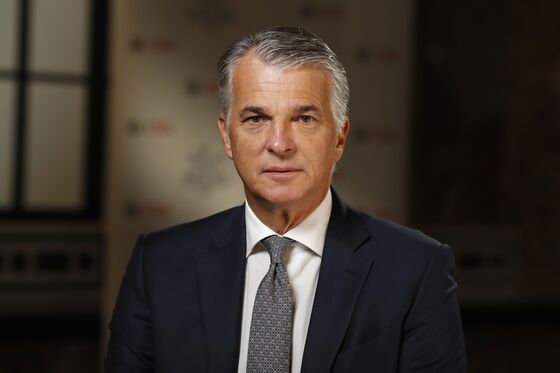 The Swiss Re chairman has held the role since 2009 and first became a member of the board in 1998, according to the company's website. The reinsurer reported mixed results last month, with profit rising but missing analyst estimates as the company took hits from major claims including typhoons in Japan and wildfires in Australia.
Ermotti had been seen as a possible candidate to take over from Weber when he retires. Commenting last month on Hamers's appointment, Ermotti said he hadn't "finalized" his role at the bank and would say whether he would seek the chairman position "when appropriate."
The UBS CEO is part of a Europe-wide trend of bank executives preparing to hand over the reins to the next generation. Lenders including Societe Generale SA and HSBC Holdings Plc are among those also looking for replacements. Credit Suisse just replaced its CEO, though in the aftermath of a spying scandal.
Ermotti undertook a radical overhaul of the top ranks in August. After a year marred by the legal fine, questions about succession and a deepening slump in the share price, he replaced wealth management co-head Martin Blessing with Credit Suisse's Iqbal Khan, elevated Suni Harford to take over asset management and tapped Sabine Keller-Busse as EMEA president.
Kielholz said he first made a "soft approach" to Ermotti last year and that the timing worked out as the UBS banker was planning to exit the company after his 60th birthday. Ermotti is "very familiar" with the asset side of the balance sheet, as well as being market savvy and a corporate finance expert, the Swiss Re Chairman said.
The topic of succession at the Swiss wealth manager was forced out into the open about a year ago when Weber said in a Bloomberg Television interview that he and Ermotti were in their eighth year at the bank, "a point in time where you need to start thinking about what is it you're going to do and how you're going to pass the bank over to your successors." That was interpreted by some as being a sign that he was starting considering who might replace Ermotti.
Weber will stay at UBS "as long as needed" and he's ready to stand for re-election at the bank's next general meeting, the chairman said last month. The search for his replacement will start next year, he said.
UBS shares rose as much as 3.7% and were trading 2.9% higher as of 12:07 p.m. in Zurich on Tuesday. Swiss Re gained as much as 3.2%.
Ermotti took an 11% pay cut in his final year on the job as UBS reduced bonuses across the Swiss bank after lowering its financial targets.
Like many of its European peers, UBS is struggling in the face of negative interest rates, investor nerves and trade tensions. As global wealth creation slows, the bank changed tack by taking away a target on growing its wealth assets under management to providing more fee-generating services to each client.