UBS Cuts CEO Ermotti's Pay as Bonuses Hinge on French Fine
UBS Group AG Chief Executive Officer Sergio Ermotti saw his pay fall 11% in his last full year on the job as the Swiss bank cut bonuses across the company after lowering its financial targets.
Ermotti earned 12.5 million francs ($12.9 million), though some of that could be clawed back if a French court upholds a massive tax fine against the bank. The Zurich-based lender paid 8.2 million francs to the new co-head of its wealth unit, Iqbal Khan, compensating him for lost earnings after leaving Credit Suisse Group AG, according to UBS's annual report published on Friday.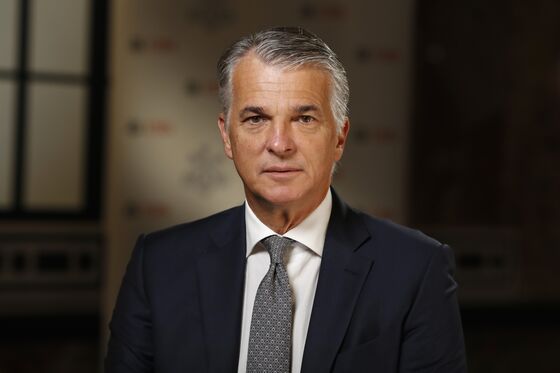 Like many of its European peers, UBS is struggling in the face of negative interest rates, investor caution and trade tensions. As global wealth creation slows, the bank changed tack by taking away a target on growing wealth assets managed to providing more fee-generating services to each client. UBS is also facing an appeal trial in June over a $5 billion fine French prosecutors slapped on the bank for helping clients hide assets from tax authorities.
In June, a French court will hear the bank's appeal against a $5 billion fine for helping clients hide assets from tax authorities. The bonuses of Ermotti, Chairman Axel Weber and some other executives may be reduced depending on the outcome. The CEO stands to lose as much as 1.5 million francs of his bonus depending on the outcome of the appeal.
A total of 7.3 million francs worth of bonuses for the executive committee is at risk. Weber's total pay will be 5.2 million francs for the period between the general meetings of 2019 and 2020. About 600,000 francs of that may be affected by the French case.
The bank's bonus pool for its employees fell 14% to $2.7 billion last year. That figure also takes into account the effect of the French fine on the bank's share performance.
In a surprise announcement last week, the bank said Ermotti will step down in November and will be succeeded by ING CEO Ralph Hamers. Hamers's pay at ING has been hamstrung by strict Dutch laws on CEO compensation; he has earned around $2.16 million annually in recent years.
Hamers is a relative stranger to the rarefied world of Swiss private banking after a nearly three-decade career at ING, most of whose business is retail banking. He climbed the ranks through a series of roles including head of the Dutch and Belgian units and the firm's global commercial lending division. He's been CEO since 2013, leading a digital banking push in an effort to win customers while trimming costs.