U.S. Treasuries Lead Rally in Long-Dated Bonds on Haven Demand
(Bloomberg) -- Investors rushed for the safety of U.S. Treasuries, anticipating economic fallout from the rising number of coronavirus infections worldwide.
The benchmark 10-year yield fell to 0.568%, its lowest level since April 22, the five-year to a record low 0.256%. U.K. two- and five-year yields also made record lows. Long-dated yields led the move in Treasuries, though, and outpaced declines in comparable German and U.K. yields. The U.S. 30-year yield slid to 1.246%, shrinking its margin over the five-year yield to less than 100 basis points for the first time since mid-May.
"The market is finally reacting to the growing infections," said Priya Misra, head of global rates strategy at TD Securities. "That's why rates are falling, led by the long end," she said. "It's the only hedge if risk assets are vulnerable."
The moves extended a rally that's been gathering momentum on this week as virus fatalities climbed to grim records in Florida, Texas and California, and countries including Italy and Australia reinstated travel restrictions. It accelerated Thursday after investors piled into the Treasury's 30-year auction, seizing an opportunity to add duration.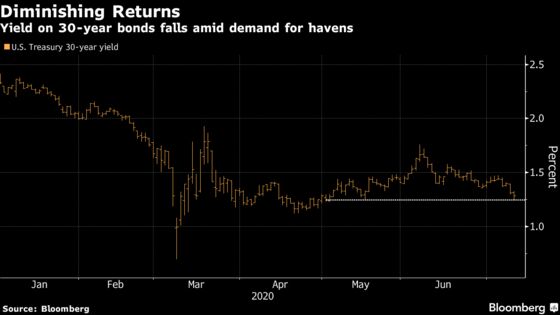 Also Friday, havens benefited when a pair of government-owned funds in China announced plans to trim holdings of stocks that soared this week, ending an eight-day market rally that had raised worries of a new bubble in the making.
The 10-year Treasury yield has rebounded slightly from its session low to around 0.60%, the 30-year to around 1.28%, having fallen as much as 20 basis points from its opening level this week. The yield curve between five- and 30-year securities recovered to just over 100 basis points.