Vaccination Pace Trails Expectations as U.S. Sends Out Shots
(Bloomberg) -- The push to get Americans vaccinated against the coronavirus is proceeding more slowly than expected, an official in charge of the effort said, even as the number of shots given reached 1 million.
Moncef Slaoui, the chief scientific adviser to U.S. vaccine program Operation Warp Speed, said on a call with reporters Wednesday that getting shots into people's arms isn't going as quickly as he'd thought. "We're here to help the states to accelerate that appropriately," Slaoui said.
About 1 million doses have been administered since the inoculation campaign began last week, according to data from the Centers for Disease Control and Prevention, but that substantially trails the pace of distribution. More than 9 million shots have been sent around the U.S. so far, according to the CDC.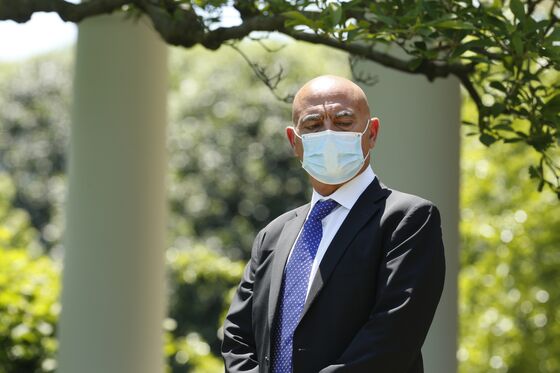 Next week, the government plans to ship another 4.67 million doses, putting it on track to disburse 20 million shots to the states by year-end, according to General Gustave Perna, Operation Warp Speed's chief operations officer.
Last week, U.S. regulators issued an emergency-use authorization for Moderna Inc.'s vaccine, adding it to a similar shot made by Pfizer Inc. and BioNTech SE that gained clearance a week earlier. The federal government plans to release 2.67 million doses of the Pfizer vaccine and 2 million doses of the Moderna shot next week.
Effectively deploying the vaccines will be key to beating back a pandemic that has infected more than 18 million Americans. Both the Pfizer and the Moderna shots are two-dose regimens; while Pfizer's must be kept at extremely low temperatures, Moderna's can be stored in a standard freezer.
Overall, some 15.5 million doses have been allocated to states, territories and a handful of cities, said Perna. Warp Speed officials are communicating with local leaders to coordinate the campaign, offering to tap pharmacies or extend the use of existing administration sites to help add capacity and capability, Perna said.
"I do believe that will progress here quickly as the two things come together," Perna said.
Vaccination has begun in 238 long-term care facilities in 12 states through a partnership with pharmacy chains CVS Health Corp. and Walgreens Boots Alliance Inc., Perna said. Another 1,000 facilities in about 13 states will receive Covid-19 vaccines next week, he said.
While the U.S. effort is ramping up, some states have reported distribution issues. A Minnesota health official said Wednesday that shipments of Moderna's vaccine to that state were delayed.
"The national distributor for Moderna has told us that they are behind on shipping vaccine," Kris Ehresmann, Minnesota Department of Health's infectious-disease director, said during a news conference. Poor weather in Minnesota was compounding the situation, Ehresmann said.
The delay is affecting shipments to three local health agencies and one skilled nursing facility, she said. McKesson Inc. is the primary distributor for the Moderna vaccine through a contract with the Department of Health and Human Services.
McKesson spokesman David Matthews said the company is aware of some issues that impacted deliveries to a limited number of administration sites, and the delays have been corrected.
A representatives for Moderna didn't immediately respond to a request for comment.