U.S. Swing States Saw Mixed Progress on Jobs in September
(Bloomberg) -- Jobless rates across U.S. swing states showed uneven progress in September, underscoring how the economic realities for some of the most crucial voters are diverging just two weeks before the presidential election.
Among the most significant declines were Pennsylvania, Iowa, Minnesota and Wisconsin, while several saw increasing unemployment rates, including Texas, Arizona and North Carolina, according to Labor Department figures Tuesday. Across the nation, jobless rates were lower in 30 states, higher in eight and stable in 12, the report said.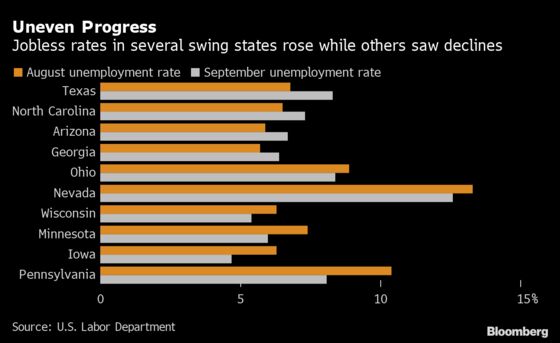 The national unemployment rate dropped more than expected in September to 7.9% from 8.4%, a decline driven in part by a lower labor-force participation rate, Labor Department data showed earlier this month.
The uneven pace of recovery is becoming starker as the initial broad boost from re-openings wanes. The backsliding seen in several hotly contested states -- paired with the job cuts announced in late September by major employers like Walt Disney Co. and Allstate Corp. -- show how challenging it will be for any state labor market to fully recover as the virus continues to spread.
President Donald Trump has pointed to job strength before the pandemic and the robust rebound in payrolls in recent months as key reasons Americans should elect him for a second term. Tuesday's report offers further insight into the softer-than-expected gain of 661,000 jobs in September, the third-straight month of deceleration.
In total, 30 states added jobs in September, while employment shrank in three and was essentially unchanged in 17. The biggest month-over-month payroll increases were in New York, California and New Jersey, while employment decreased in Indiana, Hawaii and Kansas.
Nevada's unemployment rate eased somewhat to 12.6%, the second-highest reading after Hawaii. Five states recorded jobless rates that remained above 10%.
Nationally, the labor market has come a long way since the record job losses in March and April. Millions have returned to work, but payrolls are still more than 10 million below February's level. The growing ranks of the long-term unemployed threaten to leave lasting economic scars, and the number of applications for regular state jobless benefits recently climbed to the highest since August.