U.S. Suspends Another Military Exercise to Help With North Korea Talks
(Bloomberg) -- The U.S. is suspending another military exercise with South Korea to aid negotiations over North Korea's nuclear program that President Donald Trump has said should "soon" result in another summit with Kim Jong Un.
The annual drill, known as Vigilant Ace, was suspended "to give the diplomatic process every opportunity to continue," Pentagon spokeswoman Dana White said Friday in an emailed statement. Defense ministers from the U.S. and South Korea "are committed to modifying training exercises to ensure the readiness of our forces. They pledged to maintain close coordination and evaluate future exercises."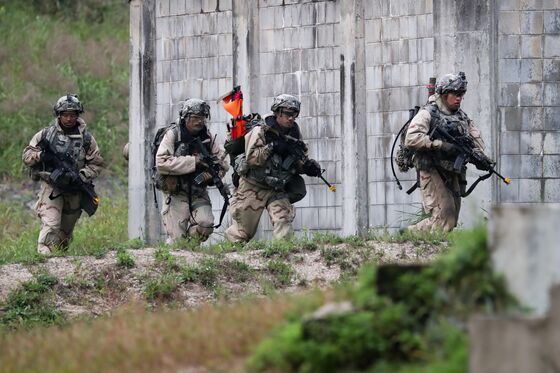 The move comes about two months after Secretary of Defense James Mattis said the U.S. had "no plans at this time to suspend any more exercises." Since then, however, Trump has continued to laud his relationship with Kim, and has pointed to the absence of North Korean nuclear and missile tests as signs that his outreach to the isolated regime is making strides.
The Pentagon provided no details about the size of Vigilant Ace, exercises which have been undertaken under different names for a decade.
The 2017 exercise involved about 230 U.S. and South Korean aircraft from eight military stations on the Korean peninsula "providing realistic air combat training and enhancing operational and tactical-level coordination through combined and joint combat training," according to a statement on the website of the Osan Air Base in South Korea.
The move is the latest sign that the Trump administration is willing to be patient even as progress toward denuclearization appears to be stalled, four months after the president and Kim met in Singapore.
U.S. Secretary of State Michael Pompeo said he hoped to meet with his North Korean counterpart "in the next week and a half or so." Speaking to the Voice of America during a trip in Mexico City, Pompeo said he anticipated a second meeting between Trump and Kim "in the very near future," though the date has not yet been set.
"We're working on finding dates and times and places that will work for each of the two leaders," Pompeo told VOA. "I'm very hopeful we'll have senior leader meetings here in the next week and a half or so between myself and my counterpart to continue this discussion so that when the two of them get together there's real opportunity to make another big step forward on denuclearization."