U.S. Suicide Rate Up 30% Since Start of 21st Century: CDC Data
(Bloomberg) -- The U.S. suicide rate has crept higher since the start of the 21st Century, becoming the second leading cause of death for those between ages 10 and 34, according to data from the federal Centers for Disease Control.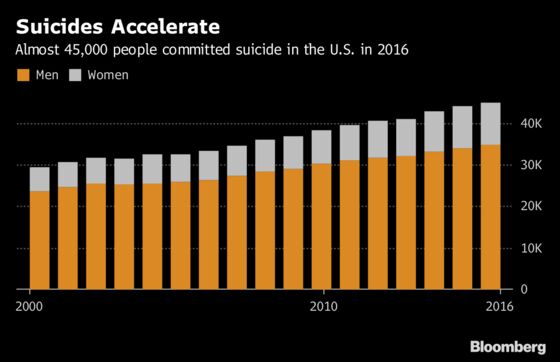 The suicide rate rose to 13.5 per 100,000 people in 2016 from 10.4 in 2000, an increase of 30 percent -- or an average or about 1 percent per year from 2000-2006 and 2 percent per year from 2006-2016, the CDC reported.
The female suicide rate was up 50 percent, rising by about 2 percent per year from 2000-2007 to about 3 percent per year thereafter. The suicide rate for females between ages 10 and 14 almost tripled. The male suicide rate, meantime, rose 21 percent.
This month's high-profile deaths of designer Kate Spade and celebrity chef Anthony Bourdain have drawn attention to suicide, ranked the No. 10 leading cause of death across the U.S. in 2016 by the CDC. Delving into the grim details of the latest data, firearms were the leading method of death for men. For women, poisoning led the list.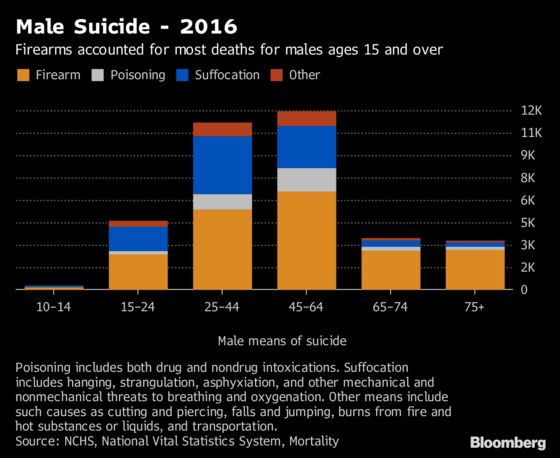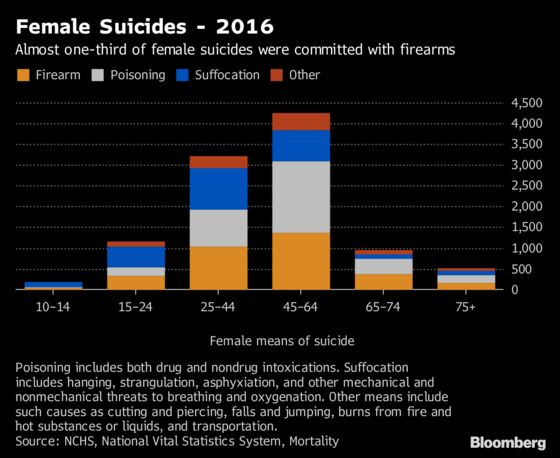 "Something to look out for when concerned that a person may be suicidal is a change in behavior or the presence of entirely new behaviors. This is of sharpest concern if the new or changed behavior is related to a painful event, loss, or change. Most people who take their lives exhibit one or more warning signs, either through what they say or what they do."
Writing in The New York Times following Spade's passing novelist Daphne Merkin said: "We are all, always, outsiders when it comes to other people's pain. But there is no starker reminder of that truth than suicide."