U.S. Suffers Record Drop in Business Activity, IHS Markit Says
(Bloomberg) -- U.S. business activity went into a tailspin in April along with confidence amid nationwide lockdowns aimed at mitigating the coronavirus pandemic.
The IHS Markit composite index of purchasing managers plummeted 13.5 points to 27.4, the lowest in data back to 2009, the group reported Thursday. Readings below 50 indicate contraction, and the data are consistent with figures for the Germany, France, Japan and Australia that indicate a worldwide recession.
IHS Markit measures of U.S. orders, employment and exports all tanked in April. Perhaps more concerning was the group's measure of future activity, a gauge of sentiment, contracted for the first time in data back to July 2012.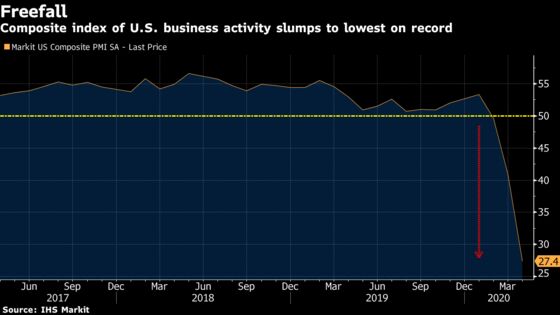 "The scale of the fall in the PMI adds to signs that the second quarter will see an historically dramatic contraction of the economy, and will add to worries about the ultimate cost of the fight against the pandemic," Chris Williamson, chief business economist at IHS Markit, said in a statement.
The IHS Markit gauge of services slid 12.8 points to 27 in April, the lowest in records back to October 2009. The median projection in a Bloomberg survey of economists called for a decline to 30. The index of manufacturing dropped to an 11-year low of 36.9.